Ethernet Switching - Ethernet Switches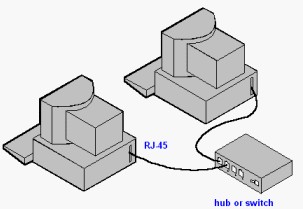 switched ethernet is an Ethernet network that is controlled by a switch. Ethernet is wired in a star configuration with a hub or switch in the middle.

Hubs, which predated switches, are shared media devices. All stations attached to the hub share the total bandwidth. Switches provide each sender and receiver pair with the full bandwidth and are significantly faster than hubs (see switched Ethernet). Like the client machines, Ethernet switches and hubs also support 10/100 and 10/100/1000 speeds.
The switch cross connects two stations and gives each sender-receiver pair the full bandwidth of the network. The total bandwidth is 20 Mbps or 200 Mbps between nodes for full-duplex operation or 10 and 100 for half-duplex. A major advantage in migrating from shared to switched Ethernet is that only the hub is replaced with an Ethernet switch. The existing network adapters (NICs) in every computer connected to the switch are still valid.

A 10/100 Ethernet port supports two speeds: 10 Mbps (10BaseT) and 100 Mbps (100BaseT).
Computers also come with 10/100/1000 ports, which adds Gigabit Ethernet at one gigabit per second. Gigabit Ethernet (GigE) is commonly used as a high-speed link between switches and servers. Ethernet devices negotiate with each other and transmit at the highest speed possible. However, if a 100 Mbps switch is communicating with a 10 Mbps client, the slower speed is used.
Data Connect Enterprise offers a full range of Standard and Hardened
Ethernet Switches
We have listed a sampling below


ADTRAN Netvanta SWITCHES
Adtran NetVanta 1224 and 1224ST Managed Switches
NetVanta 1234 24-Port, Layer 2 Fast Ethernet Switch
NetVanta 1234 PoE 24-port, Layer 2 Fast Ethernet Switch with PoE
NetVanta 1238 48-port, Layer 2 Fast Ethernet Switch
NetVanta 1238 PoE 48-port, Layer 2 Fast Ethernet Switch with PoE
NetVanta 1534 26-Port, Layer 2 Gigabit Ethernet Switch
NetVanta 1534 PoE 26-Port, Layer 2 Gigabit Ethernet Switch with PoE
NetVanta 1335 Router with Layer 3 switch and optional Wi-Fi and/or 802.3af PoE

ADTRAN SWITCH-ROUTERS
3Com Gigabit Switches 4900 4924 4950 (Managed Layer 2 Layer 3 Layer 4 GigE Switch)

Adtran 1224 1200500L1 24 Port Managed Switch
Adtran 1224ST 1200504L1
Adtran Netvanta 1224STR Modular WAN interface, Firewall, Ethernet Switch, IP Router, and Optional VPN
Adtran Netvanta Series 1000 Managed Switches Adtran Ethernet Switches

Canoga Perkins HS8000 Hardened 10/100 Mbps Eight Port Ethernet Switch
GarrettCom LAN Ethernet Industrial Switches Hubs Repeaters Fiber Networking Solutions
GarrettCom mP62 Managed Hardened Switch
Garrettcom Garrett Magnum 6K16V Industrial NEBS Ethernet Switch
GarrettCom 4K16 Fiber Ethernet Switch 10/100Mb
GarrettCom 4K24 10/100Mb Ethernet Switch

GDC SpectraComm SC ES Ethernet Switch
GDC INNOVX FastSwitch
GDC SpectraComm SC ES Ethernet Switch
HP Procurve Switches Managed Unmanaged 24 48 port Base Page
HP Procurve Switch 408 J4907A
HP ProCurve Switch 2724 J4897A
HP ProCurve Switch 2626 J4900A
HP ProCurve Switch 2708 J4898A
HP Procurve Switch 2124 J4868A
HP ProCurve Switch 2650-PWR J8165A
HP Procurve Switch 2626-PWR J8164A
HP Procurve Switch 2324 J4818A
HP Procurve Switch 9304m J4139A
HP Procurve Switch Procurve 2312 J4817A
HP Procurve 4160gl J8152A
HP Procurve 4140gl J8151A
HP Procurve Switch 2524 J4813A
HP Procurve Switch 2512 J4812A
HP ProCurve Switch 2650 J4899A
HP Procurve Switch 2848 J4904A
HP Procurve Switch 2824 J4903A
Moxa Industrial Managed Ethernet Switches Unmanaged Ethernet Switches
Data Connect Industrial Ethernet Switches
Great Warranty and Pricing. Why buy new? !!
Please contact us 301-924-7400