Adtran Netvanta 1224STR
All-in-One Network Access with Power of Ethernet:
Modular WAN interface, Firewall, Ethernet Switch, IP Router, and Optional VPN
Adtran Netvanta 1224R PoE 1224STR PoE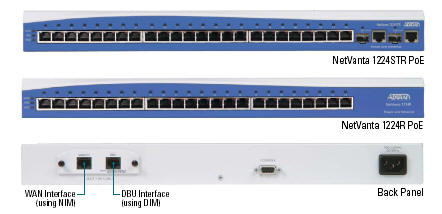 ■ Full-featured, managed Layer 2 switch-routers
■ 24-port Ethernet, Fast Ethernet, Power over Ethernet, and Gigabit Ethernet functionality
■ Unique all-in-one switching/routing/firewall/VPN platforms
■ Interoperable in established,multi-vendor networks
■ 8.8 Gbps switching capacity,non-blocking
■ Gigabit SFP/1000Base-T uplink/stacking capability available
■ Stacking up to 16 switches with single IP addressmanagement
■ Link Aggregation, GVRP,and LLDP
■ MAC-based port security
■ SIP ALG for NAT traversal in VoIP applications
■ Easily recognizable Command Line Interface (CLI)
■ Intuitive web-based Graphical User Interface (GUI)
■ Free firmware updates
■ Unlimited, responsive, toll-free technical support
■ Industry-leading five-year North American warranty
The Adtran Netvanta 1000 Series from ADTRAN is a standards-based, non-blocking Layer 2 switching solution suitable for converged LAN/WAN access, interconnecting LAN devices, for network segmentation, or for powering LAN network devices. The Adtran Netvanta 1224R PoE (Power over Ethernet) and 1224STR PoE are unique, all-in-one access platforms that combine a 24 port Ethernet switch, an IP access router, a modular WAN interface with built-in DSU/CSU, a stateful inspection firewall, and the option for
Virtual Private networking (VPN), all in a single 1U chassis. The 1224R PoE and STR PoE provide 24-port Ethernet and Fast Ethernet switching, with the STR PoE offering two extra 1000Base-T/SFP Gigabit ports for uplink or stacking capability.

Modular Hardware

A single WAN access slot in the back of the Adtran Netvanta chassis supports a variety of Network Interface Modules (NIMs) including ADSL, 56/64k, T1/FT1, T1/FT1 with DSX-1, E1/FE1, E1/FE1 with G.703, Dual T1, or a serial interface. The optional Analog or ISDN BRI Dial Backup Modules (DIMs) support a solid business continuity plan by dialing around a failed circuit to any PPP-compliant device. The ADSL NIM may also be used for broadband backup, allowing for larger bandwidth applications and faster
data rates.

Standard-based Protocols

Based on the ADTRAN Operating System (AOS), these devices offer support for 802.1Q Virtual LANs (VLANs), Port-based switching features include Broadcast Storm Control, 802.1D and 802.1w Spanning/Rapid Spanning Tree, Link Aggregation, Port Mirroring, and GVRP. Link Layer Discovery Protocol (LLDP) auto-discovers neighboring Ethernet devices, simplifying integration into multi-vendor environments. In addition the integral IP router provides costeffective Internet access, corporate Frame Relay or point-to-point connectivity using standard routing protocols such as BGP, OSPF and RIP.

Power over Ethernet

The Adtran Netvanta 1224R PoE and 1224STR PoE platforms provide standards-based 802.3af PoE functionality for powering IP phones, Wireless Access Points (WAPs), or other devices requiring LAN power. The products support up to 15.4 watts per port or 370 watts total.
Part Numbers for Ordering from DCE
Adtran Netvanta 1000 Series Chassis

Adtran Netvanta 1224R PoE 4200530L1
Adtran Netvanta 1224R PoE with VPN 4200530L2
Adtran Netvanta 1224STR PoE 4200570L1
Adtran Netvanta 1224STR PoE with VPN 4200570L2
Adtran Netvanta 1224R PoE Product Bundles
Adtran Netvanta 1224R PoE with 56/64k NIM 4200531L1
Adtran Netvanta 1224R PoE with T1/FT1 NIM 4200532L1
Adtran Netvanta 1224STR PoE Product Bundles
Adtran Netvanta 1224STR PoE with 56/64k NIM 4200571L1
Adtran Netvanta 1224STR PoE with T1/FT1 NIM 4200572L1


Adtran Netvanta 1000 Network Interface Modules (NIMs)

56/64k NIM 1200861L1
T1/FT1 NIM 1202862L1
T1/FT1 with DSX-1 NIM 1202863L1
Dual T1 NIM 1200872L1
E1/FE1 NIM 1200868L1
E1/FE1 with G.703 NIM 1200878L1
ADSL NIM 1200869L1
Serial NIM 1200866L1
X.35 Serial Interface Cable 1200873L1
X.21 Serial Interface Cable 1200874L1

Adtran Netvanta 1000 Dial Backup Interface Modules (DIMs)

Analog Modem DIM 1200864L1
ISDN BRI-U DIM 1200865L1
ISDN BRI-S/T DIM 1200875L1

Adtran Netvanta 1000 Series SFP Modules

Adtran Netvanta 1000Base-SX SFP (LC Connectors) 1200480E1
Adtran Netvanta 1000Base-LX SFP (LC Connectors) 1200481E1