Adtran Netvanta Switches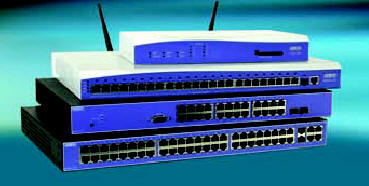 Adtran Netvanta 1000 Series Fast Ethernet Switches

Adtran Netvanta Fast Ethernet switches offer business-class features needed for today's most demanding networks. Running the ADTRAN Operating Systems (OS) provides standards-based, non-blocking switching, support for Virtual LANs (VLANs), Quality of Service (QoS) and Class of Service (CoS) for applications such as VoIP, Link Aggregation, advanced management and remote configuration capability, and much more.

* Low-cost, fully managed Layer 2 and Layer 3 Fast Ethernet switches
* Standards-based for ease of interoperability
* 802.3af PoE enabled models available
* Quality of Service (QoS) capabilities support mission-critical applications such as VoIP
* LLDP/LLDP-MED further aids in management by discovering neighboring devices and IP Phones
* Cable Diagnostics to identify cable plant problems like an open or a short in a twisted pair
* Wi-Fi access controller managing up to 24 ADTRAN Wireless Access Points (WAPs)
* Web-based GUI for device configuration
* Free firmware updates
* Industry-leading warranty

Featured Products
Adtran Netvanta 1224 and 1224ST Managed Switches
Adtran Netvanta 1234 24-Port, Layer 2 Fast Ethernet Switch
Adtran Netvanta 1234 PoE 24-port, Layer 2 Fast Ethernet Switch with PoE
Adtran Netvanta 1238 48-port, Layer 2 Fast Ethernet Switch
Adtran Netvanta 1238 PoE 48-port, Layer 2 Fast Ethernet Switch with PoE
Adtran Netvanta 1335 Router with Layer 3 switch and optional Wi-Fi and/or 802.3af PoE
Adtran Netvanta 1534 26-Port, Layer 2 Gigabit Ethernet Switch
Adtran Netvanta 1534 PoE 26-Port, Layer 2 Gigabit Ethernet Switch with PoE
Adtran Netvanta 1335 Router with Layer 3 switch and optional Wi-Fi and/or 802.3af PoE
Adtran NetVanta 6355 VoIP SIP gateway with PoE switch
Applications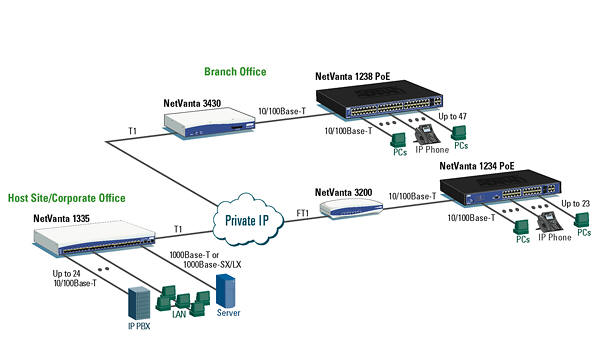 Power over Ethernet (PoE) and Quality of Service (QoS) for VoIP Networks
Adtran Netvanta Ethernet switches and multiservice routers provide PoE and QoS functionality for Voice over IP (VoIP) networks. QoS ensures network managers have the ability to prioritize delay-sensitive or mission-critical traffic and control network congestion. Adtran Netvanta 1200 Series switches support Layer 2 802.1p Class of Service (CoS), while Weighted Round Robin and Strict Priority Queuing are used for traffic prioritization. At Layer 3, Adtran Netvanta multiservice routers support DiffServ marking and Class-based Weighted Fair or Low Latency Queuing.

VLAN Switching and Inter-VLAN Routing
Adtran Netvanta switches provide managed switching features like 802.1Q Virtual LANs (VLANs) and VLAN trunking. VLAN's provide logical segmentation of the network adding additional security and the separation of broadcast domains, which improves the overall network performance.
The Adtran Netvanta switches can use the Gigabit Ethernet ports for uplink capability using 1000Base-T or optical connections using the Small Form factor pluggable (SFP) modules for single or multinode fiber applications. In addition, these Gigabit portscan be used for VLAN trunking to an upstream switch, link redundancy or to connect high-speed ports on servers or other devices.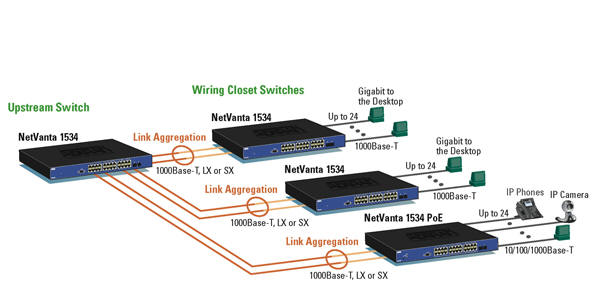 Gigabit-to-the-Desktop
The Adtran Netvanta 1534 is ideal for affordable higher bandwidth and Gigabit-to-the-desktop deployments. Link aggregation provides additional bandwidth for connectivity to upstream or core switches. Ideal for new installations or network upgrades, these switches can provide higher bandwidth for corporate and branch office LANs to support today's most bandwidth-intensive applications.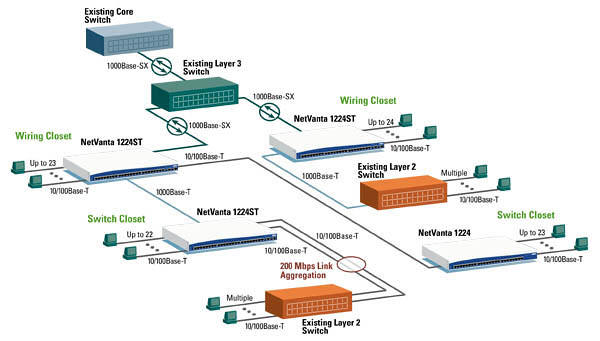 Interoperability with Installed Ethernet Switches

The Adtran Netvanta 1000 Series use industry-standard switching technologies for interoperability and ease of integration into existing or multi-vendor networks. Standards-based technologies enable quick implementation of advanced features, such as VLANs, Link Aggregation, and Spanning Tree. The Adtran Netvanta 1224ST uses industry-standard Small Form-Factor Pluggable (SFP) modules to provide Gigabit uplinks over fiber to higher layer switches in the network core.

Layer 2 Switching

The Adtran Netvanta 1000 Series of managed Ethernet switches includes the Adtran Netvanta 1224, a 24-port switch, and the Adtran Netvanta 1224ST, a 24-port switch with dual Gigabit uplinks. These products are designed for Local Area Networks requiring LAN interconnectivity or network segmentation, including Fast Ethernet and Gigabit Ethernet applications. Standards-based switching protocols provide interoperability in multi-vendor switch/router networks and can be used in conjunction with Adtran Netvanta 3000 Series access routers.
Adtran Netvanta Switches Product Matrix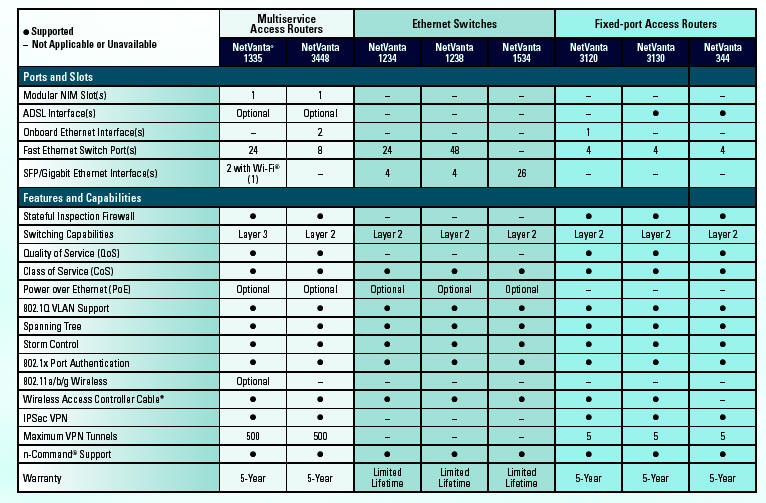 Adtran Netvanta 1224 and 1224ST Managed Switches
Adtran Netvanta 1234 24-Port, Layer 2 Fast Ethernet Switch
Adtran Netvanta 1234 PoE 24-port, Layer 2 Fast Ethernet Switch with PoE
Adtran Netvanta 1238 48-port, Layer 2 Fast Ethernet Switch
Adtran Netvanta 1238 PoE 48-port, Layer 2 Fast Ethernet Switch with PoE
Adtran Netvanta 1335 Router with Layer 3 switch and optional Wi-Fi and/or 802.3af PoE
Adtran Netvanta 1534 26-Port, Layer 2 Gigabit Ethernet Switch
Adtran Netvanta 1534 PoE 26-Port, Layer 2 Gigabit Ethernet Switch with PoE
Adtran Netvanta 1335 Router with Layer 3 switch and optional Wi-Fi and/or 802.3af PoE
adtran gig-e switch

ADTRAN SWITCH-ROUTERS Adtran vs. Cisco