GarrettCom 6K16V 16 Port Fiber Industrial Configurable Managed Switch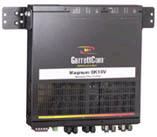 Call us for Pre-sales and discount pricing on Garrett 6K16V Magnum Switch NEBS Compliant
301-924-7400 Support
GarrettCom 6K16V 10/100/1000 Managed Fiber Switches 16 Ports:

Garrett Magnum 6K16V Magnum 6K16V Managed Fiber Switch, base unit, for vertical mounting. May be configured with a variety of 10/100/1000 Mb fiber and copper port connector types via selection from a family of port modules. 16 ports max. AC power input at the top. Two metal brackets for vertical wall or panel mounting. Wire speed filtering and forwarding across all ports, 802.3x flow control, 802.1p priority packet processing, 4K node address table, 240KB packet buffers. For licensed network management software (MNS-6K and S-Ring), see their data sheets.
Meets IEEE P1613 Environmental Standard for Electric Power Substations

Industrial Ethernet packaging for vertical mounting, convection cooled (no fans).

Provides two modular slots for user selection of 100Mb and 10Mb fiber ports, Gigabit fiber ports, and 10/100 copper ports, up to 16 total ports max.

Wide selection of fiber ports, features Small Form Factor (SFF) connectors, both MT-RJ and LC

Power input choices include: -48 VDC, 24 VDC, 5VDC, AC, 125 VDC, optional dual-source DC

Relay contacts provided for external "Alarm" monitoring of internal power, and of selected software operations

Component Parts temperature rated for ?40? to 60?C long term, Type Tested for ?50? to 95?C short term

High-performance switching, non-blocking on all ports, 802.1p QoS, ToS, DiffServ

Comprehensive Magnum MNS-6K software includes: RMON, SNMP, Telnet, VLANs (Port- and Tag-based, GVRP), Port-mirroring, CLI, Spanning Tree, multi-level QoS, Password Security and Port Security, IGMP Snooping, SNTP, Event Log, BootP, DHCP, FTP and TFTP, SNMPc GUI support.

Manages redundant rings with the S-Ring? software product, including gigabit ring structures

Supports Link-Loss-Learn? (LLL) feature for fast ring recovery as a ring member

DIN-Rail mounting for Factory Floor applications

Industrial option including Conformal Coating for harsh and humid environments

Companion product to the Magnum 6K25 which is NEBS Level 3 and ETSI Certified

Base Units:
GarrettCom 6K16V-24VDC Same as Model 6K16V except the power input is 24VDC, located at the bottom left..

GarrettCom 6K16V-5VDC Same as Model 6K16V except the power input is 5VDC regulated and fused.

GarrettCom 6K16V-48VDC Same as Model 6K16V except the power input is -48VDC, located at the bottom left..

GarrettCom 6K16V-125VDC Same as Model 6K16V except the power input is 125VDC (range 115 to 150VDC), located at the bottom left.

6K16V Additional Ordering #'s for Modules, Software and Accessories
- Purchase orders accepted on GarrettCom, Inc. equipment
- Contract Buying and Volume Discounts available !!
- Please contact us 301-924-7400