GDC INNOVX FastSwitch
Fast, Switched, Scaleable

Call us for Pre-sales and discount pricing

301-924-7400 Support
GDC INNOVX FastSwitch:
Fast, Switched, Scaleable Ethernet Connectivity To Remote LANs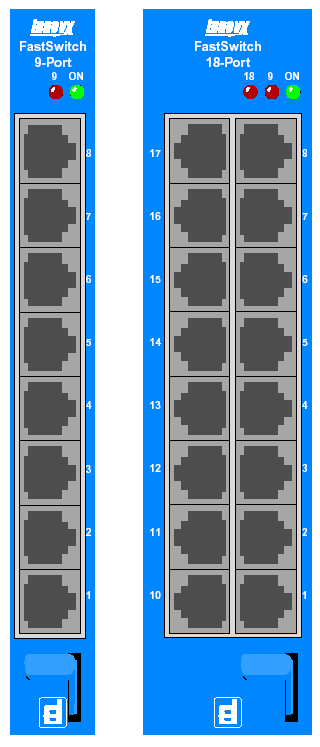 GDC Innovx FastSwitch

• Secure, robust ethernet switching for applications where high-quality, high-reliability, security and low-cost are needed.

• Scalable 10/100Mbps connectivity in 9- or 18-port increments, using the existing infrastructure.

• Ideal for remote LAN access applications when used with its companion product, the FastRoute static router, or any other bridge/router device.

• Flexible and secure management options.
Introduction

The Innovx FastSwitch devices provide fast ethernet connectivity
for enterprise networks, allowing efficient and secure management of LAN-attached equipment. As part of GDC's Innovx family of products, the FastSwitch offer the high reliability and safety required in mission-critical enterprise environments. FastSwitch can be deployed as a replacement to legacy hubs or in new installations where
fast ethernet switching is desired.

Innovx FastSwich devices are also a cost-effective means of dramatically increasing network performance. FastSwitch reduces collisions and eases congestion problems on existing shared-hub networks. Unnecessary network traffic is eliminated as FastSwitch delivers dedicated bandwidth for each of the ports.
Secure and Managed

FastSwitch devices can be monitored and managed using standard protocols, including Telnet, SNMP, and HTTP (web). Local management via a craft interface is also provided. Management access to the unit is multi-level, password-protected with the additional support of inactivity timers. FastSwitch also features IronGate Security, which provides port-by-port MAC address filtering. For additional security during periods of heightened alert, SNMP
and web access may be disabled.

9-Port and 18-Port Models
The FastSwitch 9-Port is a single-width, 7-inch by 9.5-inch Innovx card with nine RJ45 ports. The FastSwitch 18-Port is a double-width, 7-inch by 9.5-inch Innovx card with 18 ports. FastSwitch can operate as a standalone switch or, for greater port density, can employ one or two ports as a logical uplink to another switch/hub device.
Scaleable and Integrated
The FastSwitch 9-Port installs in any Innovx shelf or enclosure (Figure 1). For higher density applications, the FastSwitch 18-Port installs in the 10-slot Innovx MultiPak enclosure or the 16-slot Innovx High Density shelf. Any Innovx family product card can be co-located with FastSwitch devices, for an integrated and flexible managed shelf environment that is scalable to network requirements.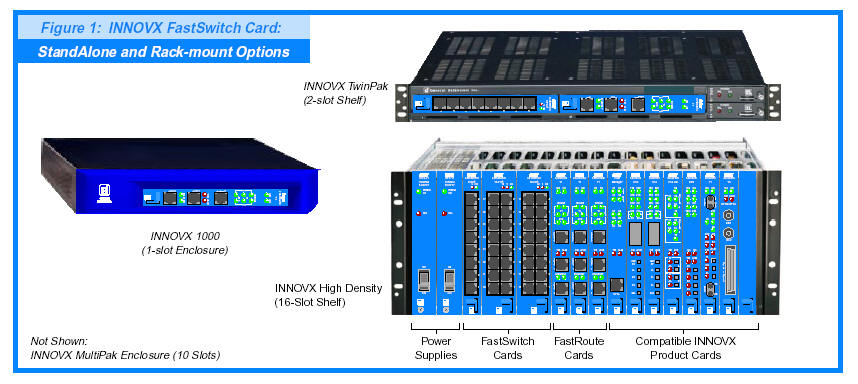 For more information go to:

GDC INNOVX FastSwitch PDF

Purchase orders accepted on General DataComm equipment
Contract Buying and Volume Discounts available !!
Please contact us 301-924-7400