GDC SpectraComm ES
SCES Ethernet Switch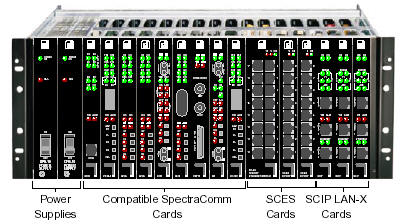 Call us for Pre-sales and discount pricing

301-924-7400 Support
GDC SpectraComm ES
Fast Switched Scaleable Ethernet Connectivity to Remote LANS

SC Ethernet Switch Highlights

• NEBS-compliant ethernet switching for applications where high-quality, high-reliability, security and low cost are needed.

• Scalable 10/100Mbps connectivity in 9- or 18-port increments, using the existing infrastructure.

• Ideal for remote LAN access applications when used with its companion product, the SpectraComm IP static router, or any other bridge/router device.

• Flexible and secure management options.

Introduction

The SpectraComm Ethernet Switch provides fast ethernet connectivity for internal networks, allowing a Carrier to efficiently and securely manage LAN-attached equipment. As part of the GDC SpectraComm family of products, SpectraComm Ethernet Switches offer the high reliability and NEBS safety required in Carrier environments. SC-ES can be deployed as a replacement to legacy hubs or in new installations where fast ethernet switching is desired.

Network Performance

SpectraComm ethernet switches (SC-ES) are a cost-effective means of dramatically increasing network performance. SC-ES reduces collisions and eases congestion problems on existing shared-hub networks. Unnecessary network traffic is eliminated as SC-ES delivers dedicated bandwidth for each of the ports. 9-Port and 18-Port Models

SC-ES 9-Port is a single-width, 7-inch by 9.5-inch Spectra- Comm card with nine RJ45 ports. SC-ES -18 Port is a double-width, 7-inch by 9.5-inch SpectraComm card with 18 ports. SC-ES can operate as a standalone switch or, for greater port density, can employ one or two ports as a logical uplink to another switch/hub device.

Secure and Managed

SC-ES switches can be monitored and managed using standard protocols, including Telnet, SNMP, and HTTP (web). Local management via a craft interface is also provided. Management access to the unit is multi-level, password protected with the additional support of inactivity timers. For additional security during periods of heightened alert, SNMP and web access may be disabled.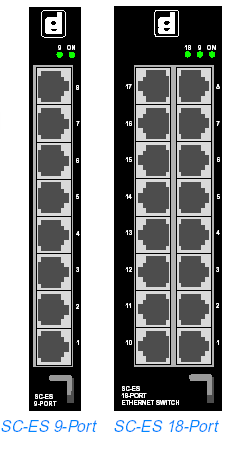 For more information go to:

SpectraComm ES PDF

Purchase orders accepted on General DataComm equipment
Contract Buying and Volume Discounts available !!
Please contact us 301-924-7400