Synxcom Industrial Modems
dce acquires synxcom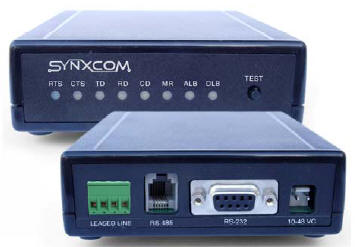 Synxcom, Inc, offers a family of high performance industrial-grade land-line and wireless data communication products to empower utility companies and system integrators to connect their critical remote devices to a central host station. Products currently offered will deliver higher performance and reliability than competing solutions, while providing easy installation and diagnostics. Synxcom modem products are designed to support a wide range of AC or DC input voltages. RS-232 or RS-485 serial interface are standard interface for all modems.
All Synxcom land-line modems are designed to operate over temperature ranges from -40 to +85? C, and all wireless product will operate from the range of -30 to +70? C. Heavy duty surge protection are build-in to protect against high voltage transients from power lines and transmission lines.
The standalone modems are powered by low voltage source from 10 to 60VDC, or 9 to 36VAC. For 110 or 240 AC power source, an external switching power supply module is provided with the modem to convert the power source to the low voltage source.
Land-line Products
Fast Poll multi-point leased and private line modems
The SM19202FP Fast Poll modem is an industrial grade leased or private line modem designed specifically for high performance point-to-point and point-to-multipoint applications. The DSP based SM19202FP modem is capable of operating at data speeds from 1200 to 19200 bps.

Supports point-to-point or multi-point communications with fast train automatic adaptive equalizer.
Supports asynchronous RS-232 or RS-485 interface, user selectable.
Supports Bell 202T, ITU-V.23 FSK mode up to 1800 bps.
When in 19200, 9600 or 2400 bps fast poll modes, the modem operates in QAM mode and utilizes special coding and decoding technique to achieve optimum performance.
Support private (metallic) lines at distances up to 15 miles at 9600 bps, or 25+ miles at 1200 bps.
All modem configurations are set by on board DIP switches. No AT command is required
Optional 12 or 24 volts dry contact detection with isolated power supply source available.

---

Dial-up V92 / V34 / V32bis / V32 / V22bis industrial modem
The SMV92D is a high speed dial-line modem designed to operate over PSTN or dial-up network applications. The SMV92D modem is designed for rugged indoor and outdoor environment installations. The modem meets world-wide homologation requirement and consists of multiple customer-select country profiles.

Supports asynchronous RS-232 or RS-485 interface, user selectable.
Supports multiple data rates at V.92/56K, V.34/33.6K, V32bis/14.4K, and V.22bis/2400 bps
V.44 and V.42bis data compression, and V.42 error correction
Low power DC voltage operation with programmable power save mode and event-trigger wake up feature, ideal for battery power applications.
Optional 12 or 24 volt dry contact detection with isolated power supply source available.
Cellular and Wireless Products
Industrial Grade Cellular Modem
The Industrial Grade Cellular modem SCM819 is designed and manufactured for reliable industrial communications including automatic meter reading (AMR), SCADA , remote telemetry, and traffic monitoring applications. The SCM819 delivers cost-effective wireless data connectivity for speeds from 1200 to 19200 bps asynchronous solution over existing CDMA/1xRTT, GSM/GPRS, and iDEN digital cellular infrastructure. The SCM819 is also designed with an optional built-in Wireless Local Loop (WLL) interface for connecting remote meters, RTU, and SCADA controllers equipped with an internal analog modem. The SCM819 is ideal for replacing legacy analog cellular modems over AMPS cellular networks, or as a quick connectivity solution for wireless data modems connecting to a central host computer.
Supports CDMA/1xRTT, GSM/GPRS, and iDEN digital cellular networks
Build-in TCP/IP/PPP protocol stacks to support circuit data and packet data modes
Optional PSTN interface to support devices with internal analog modem
Supports asynchronous RS-232, RS-485, or external PSTN/modem interface
Internal modem compatible with V.22/V,22bis, Bell 212A, and Bell 202T standards
Build-in self test and remote diagnostics features for configuration and monitoring