SYNXCOM SM19202FP
High-Speed Fast-Poll Modem for Industrial Communications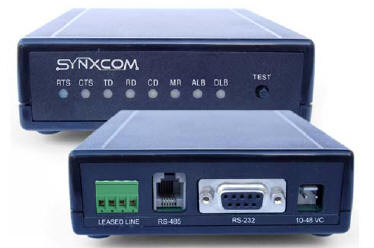 Supports point-to-point or multi-point communications with fast train automatic adaptive equalizer.
Supports asynchronous RS-232 or RS-485 interface, user selectable.
Supports Bell 202T, ITU-V.23 FSK mode up to 1800 bps.
When in 19200, 9600 or 2400 bps fast poll modes, operates in QAM mode
Support private (metallic) lines at distances up to 15 miles at 9600 bps, or 25+ miles at 1200 bps.
All modem configurations are set by on board DIP switches. No AT command is required
Optional 12 or 24 volts dry contact detection with isolated power supply source available.
The Synxcom Fast Poll modem is designed and manufactured from the ground up for rugged industrial communication networks. Boasting the latest innovative digital signal processing (DSP)-based communication device, the SM19202FP delivers a cost-effective 19200 bps asynchronous solution for point-to-point and multipoint connectivity.

The SM19202FP Fast-Poll modem is ideal for industrial communication applications including SCADA systems, RTUs, traffic monitor and control, and industrial automation networks. The SM19202FP supports RTUs with an EIA RS-232 or RS-485 serial port at speeds of 19200, 9600, 2400, and 1200 bps.

The SM19202FP Fast Poll modem is designed to operate over 4-wire or 2-wire unconditioned leased lines or private metallic circuits. For optimum performance, the modem employs QAM and FSK modulations to communicate over a variety of transmission lines.

The SM19202FP Fast Poll modem is designed to operate with a wide range of AC or DC power supply voltages and temperatures. With proven reliability and ease of installation, the SM19202FP is ideal for point-to-point and point-to-multipoint polling networks, where high speed and low-network latency are critical for system performance.