SYNXCOM SMV92D
High-Speed V.92/V.34/V.32bis Modem for Industrial Communications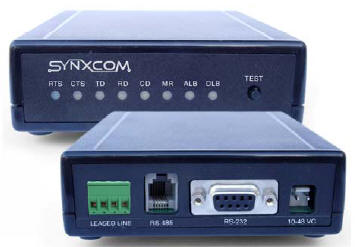 Supports asynchronous RS-232 or RS-485 interface, user selectable.
Supports multiple data rates at V.92/56K, V.34/33.6K, V32bis/14.4K, and V.22bis/2400 bps
V.44 and V.42bis data compression, and V.42 error correction
Low power DC voltage operation with programmable power save mode and event-trigger wake up feature, ideal for battery power applications.
Optional 12 or 24 volt dry contact detection with isolated power supply source available.
The Synxcom SMV92D high-speed dial-line modem is designed and manufactured for rugged industrial communication over the Public Switch
Telephone Network (PSTN). The SMV92D utilizes Conexant?s latest V.92 and V.34 technologies to deliver outstanding features, performance, and reliability in one cost-effective solution.

The Synxcom SMV92D modem is ideally suited for industrial communication applications including SCADA systems, RTUs, traffic monitor and control, and industrial automation networks. The SMV92D supports RTUs equipped with an EIA RS-232 or RS-485 serial port. Data communication speeds up to 56 kbps in reception and up to 48 kbps in transmission are supported.

The Synxcom SMV92D modem incorporates the latest data-compression and error-correction standards for improved data transmission and reception over marginal and poor-quality telephone lines. Multiple levels of security with password verification and security call back keep your valuable data secure from intruders.

The Synxcom SMV92D modem operates with a wide range of AC and DC power supply voltages and temperatures. Its low power consumption design and auto power-down and auto wake-up features make the SMV92D ideal for battery powered system as well as regular AC powered operations.