Up to 16 Ports per ForeFront Card--Get high density per card and lower your cost per port. Simply scale with more cards
nx64 kpbs Speeds to 4.6-Mbps--Get speed and distance of up to 30,000 feet (9.4 Km) with nx64 kbps (n=1..72) on each port
Flexible WAN Egress--Your choice of 4/8/12/16 T1/E1 module, or use the STM-1 uplink for up to 63 E1s over fiber or copper
Built-in TimeSlot DACS--Connect any-to-any mapping with its powerful built-in grooming capabilities.
Complete Alarm Facilities--Configurable alarm reporting via remote SNMP traps, front panel LEDs, 3-contact relay, and NMS.
SNMP/HTTP Network Management--Configure the Model 3096RC and the remote CPE modems from any location in the world.
DSL delivers the reach-and-range, but the infrastructures delivering those services have typically lacked integration, often requiring a rack full of specialized equipment. Now, Patton has combined G.SHDSL ports, DACS, and WAN functions into a powerful system operating on Patton?s ForeFront Access Platform.

The Model 3096RC TDM-Digital Access Concentrator, or T-DAC, links up to 16 G.SHDSL circuits to multiple WAN uplink modules and offers completely flexible any-to-any grooming. Each 4.6-Mbps port offers user-selectable nx64 (n=1..72) data rates. With its built-in cross-connect, each data channel, or channel group, can be multiplexed onto any uplink or DSL port?even to ports on other 3096RC blades in the same chassis. The entire system is easily manageable through an integrated SNMP/HTTP-based NMS.

Use the T-DAC in any Patton 2U, 4U, or 6U Forefront Access System and scale-up density while reducing costs! Fully redundant power and integrated cooling enable these lightweight chassis to grow while accepting new technologies.

Harness the explosive growth of DSL with a tightly integrated, cost-effective solution to aggregate high-speed traffic while gaining flexibility and protecting your investment. Choose the 3096RC for your next network rollout.


ForeFront G.SHDSL System Configurations




The ForeFront FullPipe?configured with 3096RC T-DACs?provides up to 128 G.SHDSL links in a 4U chassis. E1 or STM-1 interface options make data network integration a snap. Combined with Patton?s 3086 CPE, it provides the complete solution.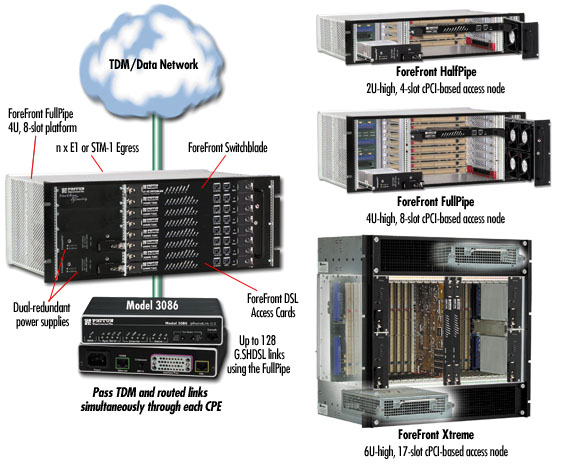 Call for availability.

16-port G.SHDSL T-DAC front/rear card sets
3096RC/16G0E: 16 DSL, No E1/T1 ports
3096RC/16G4E: 16 DSL, 4 E1/T1 ports
3096RC/16G8E: 16 DSL, 8 E1/T1 ports
3096RC/16G12E: 16 DSL, 12 E1/T1 ports
3096RC/16G16E: 16 DSL, 16 E1/T1 ports

16-port G.SHDSL T-DAC front card
3096RC: 16 E1/T1 ports; no rear transition module

T-DAC rear cards
3096RCT/0E: 50-pin Telco for 16 G.SHDSL ports, No E1/T1 ports
3096RCT/4E: 50-pin Telco for 16 G.SHDSL ports, 68-pin SCSI for 4 E1/T1 ports
3096RCT/8E: 50-pin Telco for 16 G.SHDSL ports, 68-pin SCSI for 8 E1/T1 ports
3096RCT/12E: 50-pin Telco for 16 G.SHDSL ports, 68-pin SCSI for 12 E1/T1 ports
3096RCT/16E: 50-pin Telco for 16 G.SHDSL ports, 68-pin SCSI for 16 E1/T1 ports


G.SHDSL G.991.2 ITU G.SHDSL Annex A and Annex B G.994.1 G.hs nx64 kbps data rates up to 4.6 Mbps (n-1..72) over 2 wires Full duplex, symmetrical TC-PAM encoding
G.SHDSL Distance: 30,000 feet (9.4 Km) at 192 kbps, 16,500 feet (5 Km) at 2.304 Mbps, 11,000 feet (3.3 Km) at 4.6 Mbps
G.SHDSL connection: Up to 16 ports presented on a 64-pin Telco connector
Transition Modules: Uplink module options include 4, 8, 12, or 16 T1/E1 ports
Ethernet Port: WAN Clocking: Internal, Network (from T1/E1 WAN port) or system via H.110.
G.SHDSL Clocking: Provides clocking to the remote NTUs/Modems
Front Panel Indicators: LEDs for power, CPU, system, Ethernet, clock source, alarms, test mode, DSL, and WAN
Management Services: HTTP, SNMP, TELNET Ethernet, RS-232 Console Port, SYSLOG Client, Remote Software Upgrade via FTP.
Alarm Reporting: Configurable alarms; Remote SNMP Traps; Front Panel LEDs; 3-Contact Relay (3-pin terminal block)
Compliance: Safety: UL/CSA per UL1950 (METS) Canadian cMET and CS-03. EMC Directive 89/336/EEC, Low-Voltage Directive 73/23/EEC (EN 60950), FCC Part 15, CE Mark, CTR12, CTR13 FCC Part 68.
Environment: Operating temperature: 14 to 43?F (-10 to 60?C); Humidity: 5 to 90%, non-condensing
Dimensions: Front blade: 0.75 H x 10.5 W x 6.3 D in. (1.9 H x 26.7 W x 16.0 D cm)
Rear blade: 0.75 H x 10.5 W x 3.15 D in. (1.9 H x 26.7 W x 8.0 D cm)