Patton 3088 RocketLink-G
G.SHDSL NTU
The Patton 3088 is the lowest cost G.SHDSL modem that supports data rates up to 4.6 Mbps over one pair of copper wire.
nx64 Rates to 4.6 Mbps ? With multiple full-duplex symmetric rates available, users select the bandwidth option they need.

Low Cost Fixed Interfaces ? Multiple interface options to choose from: T1/E1 (G.703/G.704), 10/100 BaseT Ethernet, X.21, and V.35.

Software upgrades make it easy to keep the RocketLink-G in service for years.

Rack Cards (E1/FE1, 10/100 BaseT Ethernet, X.21, and V.35) for the 1001 Telco Chassis ease CO deployment.

NetLink Plug 'n' Play - Just plug them in and the link comes up in seconds. Set the unit to use G.Handshaking and the selection of optimal link speeds can also be done automatically.

Remote Console - With remote console, any Patton G.SHDSL modem (3096RC or 3088) can be used to manage the remote CPE modem.

Front Panel LEDs provide users with quick feedback on unit operation.

Terminate routed or bridged Ethernet traffic with a ForeFront 6081RC EdgeRoute.
The Patton 3088 G.SHDSL RocketLink-G NTU is the perfect choice for users or service providers who need high-speed dedicated network connections and know what interface they want. Based on the ITU and ETSI G.SHDSL G.991.2 standard, the RocketLink-G NTUs enable providers to extend their reach-and-range by delivering rate-adaptive nx64 symmetrical speeds from 192 kbps to 4.6 Mbps?all over a single pair of wires. The Patton 3088 likewise supports G.Handshaking per ITU G.994.1 for automatic rate adaptation to existing line conditions.

The RocketLink-G uses Patton?s NetLink Plug 'n' Play feature to remove any questions of configuration when used as the CPE solution with any Patton CO solution. Just set the units to their default mode and plug them in. The remote modem configures automatically and the link is up and running in seconds. With support for remote console, future configuration changes and operating statistics are available via the out of band EOC channel. Use remote console when deploying RocketLink-G NTUs either back to back or with a ForeFront system. A perfect complement to any ForeFront AIS solution.

The Patton 3088 is available with V.35, X.21, T1/E1 and 10/100Base-T Ethernet interfaces. The V.35 interface is presented on an female DB-25 connector. The X.21 is presented on a female DB-15 and is DTE/DCE selectable. The T1/E1 interface is presented on an RJ-48C and optional dual BNC connector. It operates as a channelized interface allowing for fractional T1/E1 configurations (G.703/G.704).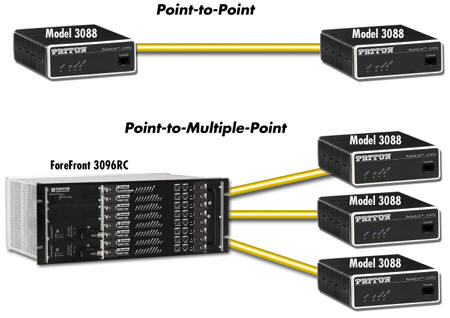 3088/CA

3088/D

3088/K

3088/I

Interface

V.35; female DB-25 with M/34 converter included

X21; female DB-15

T1/E1; Dual BNC and RJ-48C

10/100Base-T Ethernet

Testing Parameters
V.52 511/511E Pattern Generator with RDL; LAL
Clocking
Internal, Network or Receive Recover Clocking
Line Coding
TC-PAM 16 for rates from 64 kbps to 2.3 Mbps; TC-PAM 32 for rates above 2.3 Mbps; Annex A & B; Automatic Line Equalization
Line Interface
RJ-11; Two Wire (single twisted pair); Impedance = 135 Ohm
Management
DIP switch (all Pattons except 3088/I), console, remote console or proxy SNMP from a Central Office ForeFront
Front Panel Indicators
LEDs for DSL link, Transmit/Receive data, no signal, loop test errors, and test mode indication
Power Supply
External power supply options: Universal 90 - 260 VAC operating from 50 - 60Hz; 120 VAC/60 Hz; 240 VAC/60Hz; -48VDC
Compliance
FCC Part 15A, CE Mark, EMC Directive 89/336/EEC, Low-Voltage Directive 73/23/EEC
Environment
Operating Temperature: 32-122?F (0?50?C); Humidity: 5-90% non-condensing
Dimensions
4.2 x 1.6 x 5.55 in. (10.7 x 4.1 x 14.1 cm)
Distance Table

NO NOISE

Line Rate

26g (0.4mm)

24g (0.5mm)

22g (0.6mm)

19g (0.9mm)

N

kbps

feet

miles

km

feet

miles

km

feet

miles

km

feet

miles

km

3

192

21000

4.0

6.4

28000

5.3

8.5

35000

6.6

10.7

52500

9.9

16

8

512

18750

3.6

5.7

25000

4.7

7.6

31250

5.9

9.5

46875

8.9

14.3

16

1024

16500

3.1

5.0

22000

4.2

6.7

27500

5.2

8.4

41250

7.8

12.6

24

1536

13500

2.6

4.1

18000

3.4

5.5

22500

4.3

6.9

33750

6.4

10.3

32

2048

12750

2.4

3.9

17000

3.2

5.2

21250

4.0

6.5

31875

6.0

9.7

36

2304

11250

2.1

3.4

15000

2.8

4.6

18750

3.6

5.7

28125

5.3

8.6

48

3072

8250

1.6

2.5

11000

2.1

3.4

13750

2.6

4.2

20625

3.9

6.3

56

3584

7500

1.4

2.3

10000

1.9

3.0

12500

2.4

3.8

18750

3.6

5.7

64

4096

6000

1.1

1.8

8000

1.5

2.4

10000

1.9

3.0

15000

2.8

4.6

72

4608

5250

1.0

1.6

7000

1.3

2.1

8750

1.7

2.7

13125

2.5

4.0
| | |
| --- | --- |
| 3088/CA/EUI | RocketLink-G - G.SHDSL MODEM, V.35 DCE interface on DB-25F; DB-25 to M/34 converter included; universal AC |
| 3088/D/EUI | RocketLink-G - G.SHDSL MODEM, X.21 interface on DB-15F connector; Universal AC |
| 3088/I/E48 | G.SHDSL MODEM, W/ ETHERNET and 48 VDC |
| 3088/I/EUI | G.SHDSL MODEM, W/ ETHERNET Interface |
| 3088/K/EUI | RocketLink-G - G.SHDSL MODEM, E1 with RJ48&BNC; UI power |
| 3088/T/EUI | RocketLink-G - G.SHDSL MODEM, T1 with RJ48; UI power |
| 3088RC/A/I | RocketLink-G G.Shdsl NTU Rack Card; V.35 interface on M34 connector |
| 3088RC/C/IA | RocketLink-G G.Shdsl NTU Rack Card; 10BaseT interface |
| 3088RC/D/V | RocketLink-G G.Shdsl NTU Rack Card; X.21 interface on DB15 connector |
| 3088RC/K/K | RocketLink-G G.Shdsl NTU Rack Card; E1 interface BNC & RJ |