Frame Relay and X.25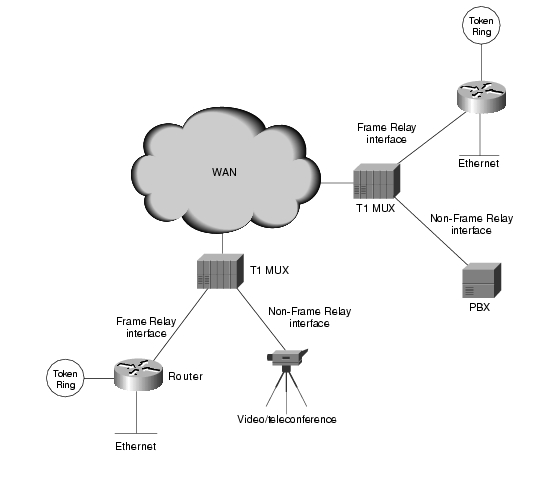 Frame Relay originally was designed for use across Integrated Services Digital Network (ISDN) interfaces. Today, it is used over a variety of other network interfaces as well
X.25 was designed to provide error-free delivery using high error-rate links. Frame relay takes advantage of lower error rate links, enabling it to eliminate many of the services provided by X.25. The elimination of functions and fields, combined with digital links, enables frame relay to operate at speeds 20 times greater than X.25.
In the picture to the left, A Simple Frame Relay Network Connects Various Devices to Different Services over a WAN

Public and Private Frame Relay Networks
In public carrier-provided Frame Relay networks, the Frame Relay switching equipment is located in the central offices of a telecommunications carrier. Subscribers are charged based on their network use but are relieved from administering and maintaining the Frame Relay network equipment and service.
More frequently, organizations worldwide are deploying private Frame Relay networks. In private Frame Relay networks, the administration and maintenance of the network are the responsibilities of the enterprise (a private company). All the equipment, including the switching equipment, is owned by the customer.
For companies with numerous distributed offices, Frame Relay provides a cost-effective way of providing a secure private IP-based network. While some companies use VPNs over the Internet for intra-company communications, that option does expose the organization to some serious security issues, not the least of which is keeping viruses and hackers out of perhaps hundreds of individual Internet connections at the offices. In contrast, Frame Relay privacy is guaranteed by the nature of the network, backed up by legislation.

Frame Relay is also used as a low cost carrier to replace the networks of leased lines previously used to connect ATM machines, POS terminals and other legacy devices to head office mainframes. These applications involve some kind of protocol conversion to spoof the equipment at both ends.

Many Frame Relay connections are used for high-end Internet connections.
Data Connect Enterprise offers a full range of Frame Relay and X.25 Devices
including new and refurbished equipment
from a wide variety of manufacturers
Quick Eagle / Digital Link Frame Relay
4250 Multilink FR
The 4250 Multilink Frame Relay provides high speed standard based Multilink Frame Relay (FRF.16) over 2xT1/E1.
5850 Multilink FR
The 5850 Multilink Frame Relay access device (available for NxT1/E1) offers standards-based inverse multiplexing capability and interoperates with the new generation of carrier-class multi-service switches.


Please contact us 301-924-7400 Ext 17 or 18 for to discuss your application and requirements
Or Search our Site for the FRAD Frame Relay or X.25 Manufacturers or Products you need

Contract Buying and Volume Discounts available !!
Please contact us 301-924-7400