Coastcom D/I Mux III D/I Mux III
Special Feature Cards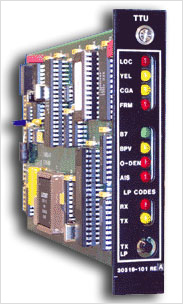 Drop & Insert Mux III D/I Mux III Special Feature Cards

D/I Mux III Special Feature Cards

Data line cards interface various Data Terminal Equipment (DTE) directly with D/I Mux III multiplexers, without the use of modems for full-duplex transmission over T1 lines. Software-programmable data line cards support synchronous data rates of 1.2 Kbps to 1.536 Mbps, and asynchronous data rates from 1.2 to 19.2 Kbps. Coastcom has developed specialty cards that meet specific product applications.

D/I Mux III - ADPCM2 Channel Card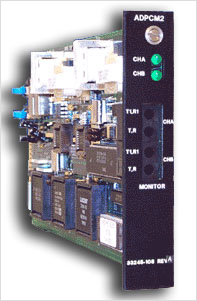 ADPCM voice compression enables the Dual 4-Wire E&M channel cards to reduce the transmission rate to 32 kbps, thereby allowing two voice channels to be carried on a single 64-kbps DS0 link. The ADPCM card is configured to accommodate two intertoll trunks, as depicted in the graphic. The compressed voice signals used in the ADPCM cards are virtually indistinguishable in quality from the original, uncompressed voice signals. Coastcom's ADPCM Dual 4-Wire E&M channel cards in a D/I Mux III™ network effectively reduce voice-traffic bandwidth and thereby increase your network's carrying capacity. Using an Adaptive Differential Pulse Code Modulation (ADPCM) algorithm, the Dual 4-Wire E&M cards double the number of phone lines from the original 24 64-kbps channels to 48 32-kbps channels carried by a T1 span.

Typical Applications
Voice compression

Voice messaging

Voice-grade data transmission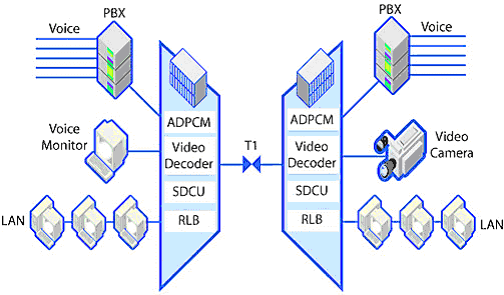 In typical applications (illustrated above), the ADPCM cards work in conjunction with
Coastcom's other channel cards in a D/I Mux III network to integrate diverse services. By consolidating voice circuits, the ADPCM cards free up space on your leased line for the transmission of other media, such as data or video.

Features
Benefits
G.726 ADPCM at 32 kbps:
2:1 voice compression
Extended Range Analog Modem Transmission Level Points:
Accommodates a wide variety of interfaces Programmable Digital Transmission Level
Point (TLP):
Reconfigures between standard
and voice-grade data applications
Front Panel Test Jacks:
Makes testing convenient
Carrier Group Alarm (CGA):
Line conditioning
Extended T1 Signaling Formats:
Provides network flexibility
5-year warranty:
Reliability guaranteed
ADPCM2 Channel Card Specifications
Bit Rate
G.726 ADPCM at 32 kbps
Standard Transmit
-26.2 to 9.6 dBm TLP
Standard Receive
-16.2 to 8.6 dBm TLP
Adjustability
0.1 dB steps
Accuracy
+/- 0.25 dB
4-wire impedance
600 ohms
Return loss
1,004 Hz >28 dB; 300 Hz to 3,000 Hz >23 dB
Crosstalk
>65 dB (loss at 200 Hz to 3,400 Hz)
Idle channel noise
<20 dBrnCO (End-to-End)
CGA type I
E lead idle immediately
CGA type II
E lead busy immediately
CGA type III
E lead idle immediately followed by busy signal after several seconds of delay
Ignore CGA
Will continue to operate in CGA
Signaling types
E&M type I, II, III, V;PLR type I, II
Typical operating current
+5 V DC<250 mA;-5 V DC<18 mA;+12 V DC < 6 mA; -12 V DC<22 mA; -48 V DC Signal Battery
Operating Temperature
0° to 50°C
Relative Humidity
< 95% non-condensing

D/I Mux III - TTU Card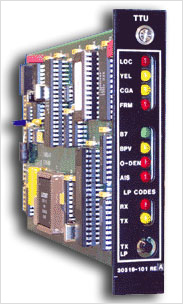 Tandem T1
Unit Coastcom's Tandem T1 Unit provides an additional T1 interface. The D/I Mux III dual T1 multiplexer supports two trunk T1 interfaces. With the TTU, you can add extra T1
interfaces as you would channel units.

Typical Applications
Connect Coastcom's ALPS multiplexers to the public network or to digital cross-connect equipment.

Convert SF to ESF or vise versa. ESF devices can be connected to an SF T1.

Groom your fractional T1 (FT1), T1, and data/voice channels with the TTU. The TTU terminates FT1 or T1 devices.

Combine multiple DDS circuits in one location.

Feature Advantages
Channels can easily be added and deleted using menu-driven software.

Loopbacks for local and remote testing are available through either software control or a switch on the front panel. The network may also initiate the testing of transmission lines by placing the TTU in line loopback with the appropriate inband loop code.

Software diagnostics and setup provide the network manager with a complete view of TTU alarms, maps, and diagnostics.

Since the TTU is a channel card module, it can easily be replaced or decommissioned while the system is operating.

The TTU T1 link can be configured to D4 or ESF independent of the shelf mode.

The TTU uses one slot in the D/I Mux III shelf. It operates like a 56/64 x N SDCU at full configuration and outputs through a T1 interface. Multiple TTUs can be installed in the D/I Mux III.

Common Bell T1 alarms are supported for network compatibility. Alarms may be detected or ignored, terminated or sent on to other locations.

The TTU conforms to AT&T Pubs 43801, 43802, and 62411 regarding clock and data recovery

D/I Mux III - Video Encoder/Decoder Cards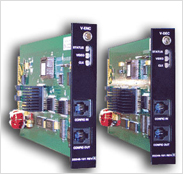 Tandem T1 Unit
Coastcom's Video Encoder/Decoder Channel Cards provide D/I Mux III™ Intelligent T1 Multiplexer users with the video component of a fully functional voice and data system without requiring an external CODEC. The cards allow throughput of real-time video with a minimal bandwidth requirement. With transmission rates of 64 kbps to 1.544 Mbps and up to 30 frames per second, each easy-to-program card can be configured to use as little as one DS0 or a full T1 line for maximum image quality.

A typical transportation application can include a strategically placed video camera, road sensors, and pan-and-tilt devices to monitor traffic flow along a stretch of heavily used highway. Video monitors in the traffic control center provide managers of advanced traffic-management systems with the information they need to dispatch emergency equipment in response to an accident or to acknowledge a traffic slowdown as routine congestion.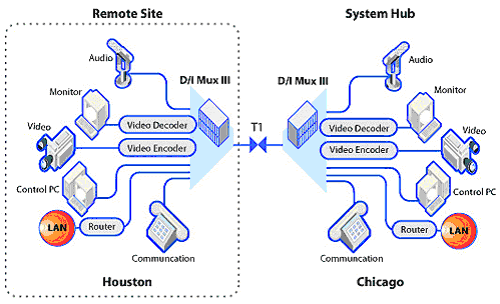 Typical Applications
Traffic monitoring
Videoconferencing
Remote video surveillance
A typical videoconferencing application can include Video Encoder/Decoder Channel Cards, video cameras, PCs, and audio equipment connected to D/I Mux IIIs at each site. Here a company with offices in Houston and Chicago use videoconferencing to enhance communication and promote employee interaction.

| | |
| --- | --- |
| Features | Benefits |
| Data Rates between 64 kbps and 1.544 Mbps | Supports variable data rates |
| Self-contained programming quality factor | Easy to use |
| Programmable quality factor | User-defined quality |
| Variable video bandwidth allocation | Flexible |
| Control of pan-and-tilt and traffic controllers | Remote control |
| Frame rate of 30 per second | Full motion video available |
| Spatial resolution up to 720 x 625 | High resolution |
| 5-year warranty | Reliability guaranteed |
Video Encoder/Decoder Card Specifications
Input
SVHS or composite NTSC video
Output
SVHS or composite NTSC video
Data Format
RS-422 synchronous video
Data Rate
64 kpbs to 1.544 Mbps (internally or externally selectable)
Refresh Rate
Up to 30 frames per second
Resolution
Up to 720 x 625
Programming Port
RS-232
Temperature
0°to 50°C
Relative Humidity
< 95% non-condensing

D/I Mux III – Fiber Interface Network Device (FIND)
Coastcom's Fiber Interface Network Device (FIND) plugs into new or previously installed D/I Mux III systems to reduce costs and increase T1 transmission distances. With a range of up to 80kms, the FIND eliminates costly T1 repeaters and increases noise immunity.

FIND handles up to 2 bi-directional T1 lines which can both be fiber or one fiber T1 and one copper T1, respectively. Installation is a snap. Merely plug the channel card in and connect the spans. No programming necessary. No set up. No delay.

Lose nothing. Gain much.
While providing copper and fiber transmission, no D/I Mux features are sacrificed. FIND supports ALPS (Automatic Loop Protection Switching) mode, dual channel bank mode, and drop-and-insert mode. The Coastcom FIND adds 1:1 protection of the fiber span when used in dual T1 point-to-point configuration. In channel bank mode, the fiber interface module provides APS (Automatic Protection Switching) of fiber connections between D/I Mux systems. Switching time between spans is less than 50msec. In fact, the APS function can be used on a fiber span connected to T1-1 while simultaneously, T1-2 is operating over a copper span.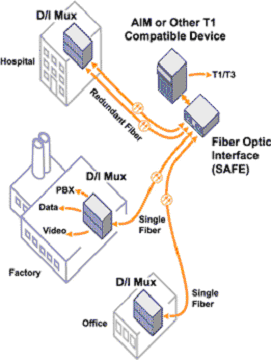 Transmitter:

TYPE OUTPUT
OUTPUT
POWER
APPLICATION
RANGE
PART
NUMBER
Dual Laser, singlemode, 1310nm
-10dBm
40km
30318-409
Dual Laser, singlemode, 1310nm
-3dBm
80km
30318-411
Single Laser, singlemode, 1310nm +
single copper
-10dBm
40km
30318-406
Single Laser, singlemode, 1310nm +
single copper
-3dBm
80km
30318-408
Receiver:

TYPE
SENSITIVITY
OVERLOAD LEVEL
PIN Photodiode
-30dBm
0dBm
Specifications:

Electrical interface

DSX-1 (single)
Clock frequency:
1.544MHz ± 200Hz

Ambient
temperature:

Operating: -20° to 65° C
Storage: -40° to 70° C
Altitude:
10,000 ft.

Humidity:

0 to 95% non-condensing
Controls:

Switch selects APS mode.
Push button to force span switch in APS mode.
No programming required. Plug-and-play.
Alternately can be controlled remotely via EMS

Indicators:

Power
T1-1 Tx and Rx
T1-2 Tx and Rx
APS Active - colors indicate status

Laser Life:

150 years 40° C

The Coastcom D/I Mux III Drop-and-Insert Multiplexer
Call 301-924-7400 ext. 17 for Information and Pricing

Coastcom Products