Verso / Verilink XPP 6000 8000 9000 Platforms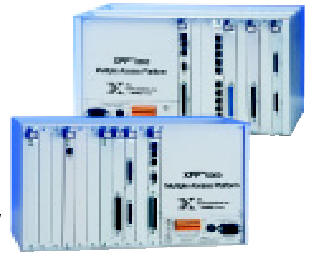 Look to DCE for Verso / Verilink Larscom

Get-A-Quote
Verso / Verilink XPP 6000/8000/9000 platforms

The XPP 6000 / 8000 / 9000 platforms are the most feature rich members of the XPP Complete Access platform family, offering three different chassis configurations to fit almost any need in today's changing communications environment. These platforms provide a cost-effective, upgradeable, server-based system handling not only today's networking needs, but providing an easy migration path to the wide range of evolving service applications. Strict adherence to industry standards provides the user an unprecedented level of investment protection. The XPP 6000/8000/9000 provide a compact solution for users needing reliable access to circuit-based public and private voice and data services, and a trouble-free migration path to emerging technologies, applications and carrier services
The XPP 6000/8000/9000 field upgradeable architecture extends the product life cycle and eliminates expensive hardware replacements as customer requirements change and new carrier services emerge. The XPP 6000/8000/9000 support dedicated data, Frame Relay, IP, ISDN, ATM, and voice traffic on a single facility. These platforms may be used in the central office to aggregate, concentrate, and manage traffic from remote integrated access devices. Or they may be used effectively at the customer premises to deliver a multitude of voice and data services. Each T1/E1 WAN card contains up to two T1/E1 interface connections. Each connection is individually configured with a CEPT interface for E1 operation or a DSX-1 interface for T1 operation.
The DSX-1 interface can also be equipped with an intelligent channel service unit (CSU) that operates in either D4 or ESF mode. All WAN interfaces and CSUs are standards based. Each WAN card can operate in dual channel bank, drop and insert, or full cross-connect mode and can perform T1 to E1 conversion. When fully populated with four dual WAN cards, the XPP 6000/8000/9000 supports eight T1 or E1 connections, with any combination of interfaces.
Server Cards

The XPP 6000/8000/9000 can be equipped with up to three server cards that provide unique services for multiple channels of user voice or data. Available server cards support ISDN Primary Rate, Frame Relay, Voice Compression, Inverse Multiplexing (Bonding compatible), ATM, BRI/PRI, and Forward Error Correction processors. Voice Access Cards Four types of voice cards are provided to deliver analog voice services. They are FXS, FXO, E&M, and P-Phone. The FXS and FXO cards provide connectivity or provisioning for 2-wire analog peripherals, such as telephones, modems, and key system trunks. The E&M cards provide connectivity for local 2- or 4-wire analog peripherals, such as PBX Trunks or audio transmission equipment, and the PPhone cards provide connection for support of the premium Meridian Digital Centrex (MDC) services. The ISDN BRI cards provide 8 ports 2-wire interface 2B1Q and S/T 4-wire interface.

Data Access Cards The XPP Complete Access product family supports multiple types of data cards for transport of Digital Data in 2-, 4-, 8-, or 10-port models. They include High speed synchronous V.35, EIA530, RS-449, RS-422, V.1 data, low-speed RS-232, V.24 data, DDS traffic (Digital Data via an OCU-DP), or DSO-DP and ISDN-BRI.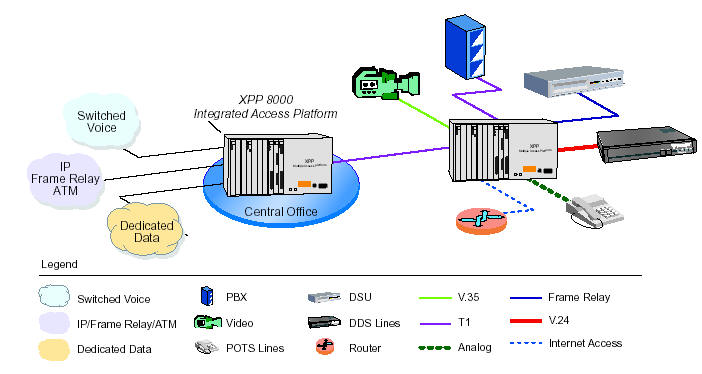 For more information, contact us:
Look to DCE for Verso / Verilink Larscom
Get-A-Quote