Verso / Verilink WANsuite 6450 / 6450A




Look to DCE for CTDI Verso / Verilink / CTDI
CTDI Products
WANsuite 6450 6450A
The WANsuite® 6450 is a feature-rich, intelligent WAN access device that manages legacy applications in an ATM network. The WANsuite 6450 terminates a standards based Symmetrical High-bit Rate Digital Subscriber Line (SHDSL) that originates from a Digital Subscriber Line Access Multiplexer (DSLAM) and provides interfaces for the end user's communications equipment.

The WANsuite 6450 is equipped with the following interfaces: an SHDSL network interface; a Constant Bit Rate (CBR) port configurable as T1 or E1;
a serial port software configurable for V.35, X.21, RS-232, RS-449 or EIA-530; a 10/100Base-T Ethernet port; and an asynchronous Supervisory port.
Highlights
SHDSL Network interface
CES via AAL1 Support
IP Routing and Bridging
Dynamic and static routing
DHCP Server and client
Network address translation
802.1D Bridging
SNMPv2 Management with email notification
DSU, IP Router, G.shdsl, 10/100BaseT Ethernet, Multiprotocol serial port
IP Gateway
DHCP and NAT/NAPT
AAL5 for data transport
Supports up to 20 PVCs
WANsight™ technology provides remote Web-based access for management and diagnostics reporting
Upgrade through software enhancements
FRF.5/.8 Support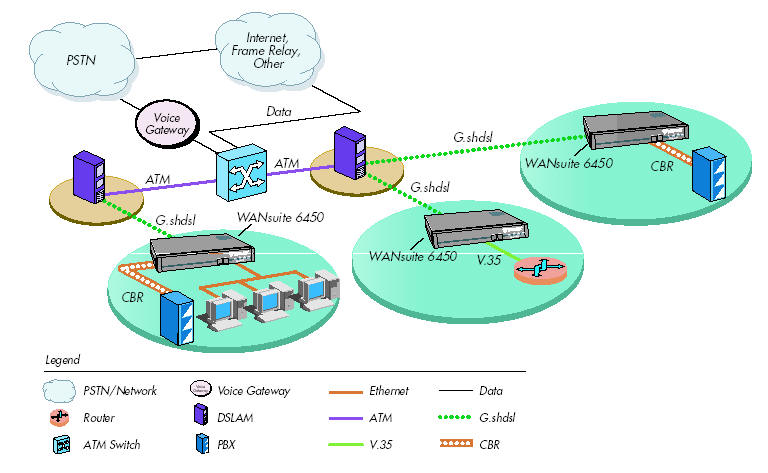 SPECIFICATIONS
WANSUITE 64X0A/AB
SHDSL IAD (200kbps – 2.320Mbps)
T1 or E1 Circuit Emulation
Asynchronous Supervisory Port
10/100Base-T Ethernet port (works with cross-over or straight-thru cable!)
Management via EOC (g.SHDSL related parameters), WANsight (web-based interface),
local supervisory port
QoS: CBR, UBR, VBRnrt
MODEL NUMBERS
(LAN side ports referenced)
6450A – Serial and CBR (8-pin) ports
6450AB – Serial and CBR (BNC) ports
6430A – Serial port only
6410A – CBR (8-pin) port only
6410AB – CBR (BNC) port only
SERIAL INTERFACE
(6450 and 6430 only)
DB-25 connector
DTE/DCE selectable pin assignments
Supports RS-232, V.35, V.36, EIA-530, EIA-530A, and X.21
Protocols: PPP, HDLC, AAL1, AAL5
ETHERNET INTERFACE
10/100Base-T auto-sensing
Auto-detection works with x-over and straight-thru Ethernet cables
Protocols: TCP/IP, RIPv1&2, OSPF
IP Addressing: DHCP (client & server)
Security: NAT, PAT
IEEE 802.1D transparent, self-learning bridge
CBR PORT
(6450 and 6410 only)
8-pin modular (RJ-45) or BNC available
T1 Mode
Line Rate: 1.544 Mbps
Line Framing: D4, ESF, or Unframed
Line Coding: AMI or B8ZS
E1 Mode
Line Rate: 2.048 Mbps
Line Framing: CCS, CAS, or Unframed
Line Coding: AMI or HDB3
Timing: Network, AAL1 adaptive
AAL1, Circuit Emulation Service
(af-vtoa-0078.000)
Mode: short haul, long haul
NETWORK INTERFACE
8-pin modular (RJ45) connection
Line Rate: 200 kbps to 2.320 Mbps
Line Framing: ATM transport (G.991.2)
Line Coding: Trellis Coded Pulse Amplitude Modulation
Network Protocol: ATM
AAL1 and AAL5
Up to 20 PVCs (1 PVC for CES)
MANAGEMENT INTERFACES
EOC for SHDSL related parameters
SNMP
Embedded web server
Telnet
Local Supervisory Port (VT100)
FRAME RELAY / ATM
(Serial port only)
FRF.5, FRF.8
DIAGNOSTICS
Performance: 15 min, 24 hr, 30 day monitoring (sampled every second)
Network Loop: SHDSL network loopback
INDUSTRY LISTINGS
FCC 47CFR Part 15, Class A
EN55022, Class A
EN55024
EN6000-3-2
EN6000-3-3, AS/NZS CISPR 22
VCCI
ANSI/UL 60950-1
CAN/CSA C22.2 No. 60950-1
CENELEC EN60950-1
IEC 60950-1 (2001-10)
AS/NZS 60950 : 2000
Industry Canada Reg. # 2097B 6450A
ITU.T 991.2 Annex B
AS/ACIF S043
AS/ACIF S003
ACTA Reg. # GICDLNAN6450A
POWER REQUIREMENTS
Voltage: 100-240 VAC
Frequency: 50-60 Hz
Dissipation: 10 W max (27.4 BTU/hr)
MECHANCIAL
Standalone (Desktop)
Dimensions: (W x H x D)
30.0 cm x 4.6 cm x 21.1 cm
11.8 in x 1.8 in x 8.3 in
Weight: 0.83 kg (1.82 lbs)
ENVIRONMENTAL
Operating Temp: 0-50 °C (32-122 °F)
Storage Temp: -20 to 65 °C (-4 to 149 °F)
Humidity: 95% max, non-condensing