Verso / Verilink XSP-100 SHARK ®
Integrated Access Device



Look to DCE for Verso / Verilink
. 17
XSP-100 SHARK® Integrated Access Device
The XSP 100 Shark let's you deliver voice, high-speed data, Internet access and networking connections to end customers over a single network connection. It's modular design works with emerging technologies. You can change services as needed, making the Shark a "pay-as-you-go" solution that protects your initial investment. The Shark works with a variety of management systems, including HTTP, CLI, SNMP or TL1. It can be configured remotely or through a local craft port on the chassis.
Features:
Modular design
Dual T1s of bandwidth
Up to 24 FXS Lines
DSX/CSU functionality
DHCP and NAT IP address management
10/100 Base T and serial Ethernet interfaces
Frame relay Assembler/Disassembler
Digital cross connect system
Integrated access has reached a new level of simplicity and functionality with the XSP-100 SHARK® Integrated Access Device from Verso / Verilink. The SHARK IAD enables the delivery of voice, highspeed
data, and Internet access connections to end customers over a single network connection.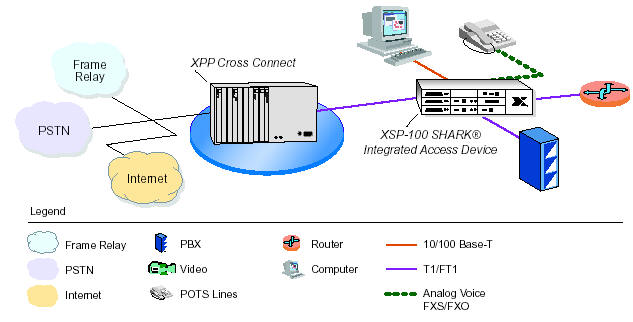 Flexible

The XSP-100 SHARK IAD was designed to be fully modular resulting in a flexible system that's easily modified as needs change. Capabilities can be added or removed effortlessly, reducing the potential for a stranded investment. This is truly a "Pay as you go!" platform.

Integrated

With the capacity for four T1 network interfaces, the XSP-100 SHARK IAD can support up to 6 Mbps of integrated voice and data. In addition to SF and ESF, TR-08 Mode 1 operation is supported, enabling the SHARK IAD to integrate directly with a carrier's voice switch.

The SHARK IAD provides an integrated, easy-to-use 1/0 cross connect that controls the flow of DS0s from the network T1 to customer-side voice or data interfaces. The SHARK IAD will terminate up to 24 analog voice circuits and can also provide digital fractional T1 interfaces for direct connection to a PBX and delivery of data to an external router.
Trouble-free

The XSP-100 SHARK IAD has a full-featured IP router that provides an SNMP manageable LAN and network interface. The router was designed for easy installation and maintenance through its DHCP and NAT features. Also, the router has an integrated Frame Relay Assembler/Disassembler (FRAD) to handle any Frame Relay traffic from the network and hand it off to the customer via an auto-sensing 10/100Base-T Ethernet connection. The SHARK IAD's features can be set up easily via one of its many configuration interfaces. Whether you choose the graphic user interface using a Web browser or command line interface using a terminal emulator, the SHARK IAD will fit into your management architecture for provisioning and monitoring. Configuration can be accomplished remotely via telnet or IP, or locally via the craft port on the chassis. Both allow for full access to all of the services and features.
DESCRIPTION
XSP-100 SHARK® Integrated Access Device

WAN PORTS
Up to 4 T1 WAN ports
T1 line rate – 1.544 Mbps with SF, ESF, and TR-08 framing
B8ZS, AMI channel line code
Bantam jacks (monitor only) and RJ-48C connector
Loop or internal timing via Stratum 4 reference clock
User-selectable DS0 assignment

VOICE PORTS
Three analog voice ports (8 circuits per card)
FXS, DPO, E&M Wink, E&M Wink Delay, FXO, and DPT signaling
modes
Supports CLASS, Loop Start, Ground Start, and Direct Inward
Dial
5 REN per card
Supports robbed bit signaling

DATA PORT (LAN)
One 10/100Base-T port (auto-sensing)
RJ-45 connector
IEEE 802.3 compliant

IP ROUTER
Protocols supported: TCP/IP, PPP, LCP, UDP, ARP, PAP, CHAP, RIP
V1 and V2, ICMP, DHCP, DNS, HTTP
DHCP and NAT for IP address management
SNMP/Telnet support
Transparent Bridging

FRAME RELAY ACCESS DEVICE
Supports RFC 1490, LMI Q.933 Annex A and LMI ANSI T1.617
Annex D
Multiple Permanent Virtual Circuits

NETWORK MANAGEMENT
Full provision, monitor, and alarm capabilities for each
interface
Accessable through Web browser
Multi-Level Password Protection
SNMP Trap Reporting

COMMAND LINE INTERFACE
Access via RS-232 craft port, Ethernet, FDL, or dedicated DS0
Inband IP, external modem, or Facility Data Link
Remote download for software upgrade

CHASSIS
NEBS Level 3 Certified
3.5" (2U) high x 17.5" wide x 13" deep
Mounts on wall, 19" or 23" rack, or desktop
Hinges available for swing-out wall mounting

POWER
-48 VDC
120 VAC with external converter (standard)

WARRANTY AND SUPPORT
Five-year warranty