Verso / Verilink Orion 4000
NxT1, NxE1, T3, E3 T1, T3, Serial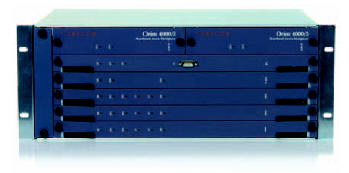 Look to DCE for Verso / Verilink Larscom
. 17
Orion 4000 Modular Multiplexer & Inverse Multiplexer

The modular Orion 4000 is designed for network service providers and large enterprises trying to cope with rapidly changing broadband networking environments. Its strengths are scalability, ease-of-migration, and long-term investment protection. With rack-mountable 12-slot and 5-slot shelves, the Orion 4000 offers a variety of modules to deliver T3 or E3 access multiplexing (or inverse multiplexing T1s and E1s), transition between circuit- and cell-based services, or to transport data, voice and video over a single DS3 circuit.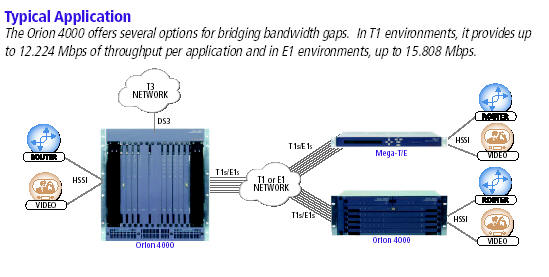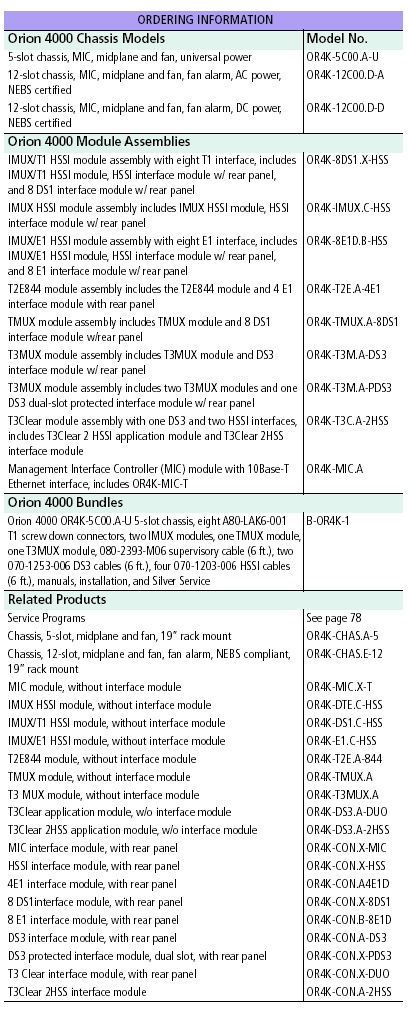 MasterCard, Visa, American Express and Discover
ORDERING INFORMATION
Orion 4000 Chassis Models Model No.
5-slot chassis, MIC, midplane and fan, universal power OR4K-5C00.A-U
12-slot chassis, MIC, midplane and fan, fan alarm, AC power,
NEBS certified
OR4K-12C00.D-A
12-slot chassis, MIC, midplane and fan, fan alarm, DC power,
NEBS certified
OR4K-12C00.D-D
Orion 4000 Module Assemblies
IMUX/T1 HSSI module assembly with eight T1 interface, includes
IMUX/T1 HSSI module, HSSI interface module w/ rear panel,
and 8 DS1 interface module w/ rear panel
OR4K-8DS1.X-HSS
IMUX HSSI module assembly includes IMUX HSSI module, HSSI
interface module w/ rear panel
OR4K-IMUX.C-HSS
IMUX/E1 HSSI module assembly with eight E1 interface, includes
IMUX/E1 HSSI module, HSSI interface module w/ rear panel,
and 8 E1 interface module w/ rear panel
OR4K-8E1D.B-HSS
T2E844 module assembly includes the T2E844 module and 4 E1
interface module with rear panel
OR4K-T2E.A-4E1
TMUX module assembly includes TMUX module and 8 DS1
interface module w/rear panel
OR4K-TMUX.A-8DS1
T3MUX module assembly includes T3MUX module and DS3
interface module w/ rear panel
OR4K-T3M.A-DS3
T3MUX module assembly includes two T3MUX modules and one
DS3 dual-slot protected interface module w/ rear panel
OR4K-T3M.A-PDS3
T3Clear module assembly with one DS3 and two HSSI interfaces,
includes T3Clear 2 HSSI application module and T3Clear 2HSS
interface module
OR4K-T3C.A-2HSS
Management Interface Controller (MIC) module with 10Base-T
Ethernet interface, includes OR4K-MIC-T
OR4K-MIC.A
Orion 4000 Bundles
Orion 4000 OR4K-5C00.A-U 5-slot chassis, eight A80-LAK6-001
T1 screw down connectors, two IMUX modules, one TMUX module,
one T3MUX module, 080-2393-M06 supervisory cable (6 ft.), two
070-1253-006 DS3 cables (6 ft.), four 070-1203-006 HSSI cables
(6 ft.), manuals, installation, and Silver Service
B-OR4K-1
Related Products
Service Programs See page 78
Chassis, 5-slot, midplane and fan, 19" rack mount OR4K-CHAS.A-5
Chassis, 12-slot, midplane and fan, fan alarm, NEBS compliant,
19" rack mount
OR4K-CHAS.E-12
MIC module, without interface module OR4K-MIC.X-T
IMUX HSSI module, without interface module OR4K-DTE.C-HSS
IMUX/T1 HSSI module, without interface module OR4K-DS1.C-HSS
IMUX/E1 HSSI module, without interface module OR4K-E1.C-HSS
T2E844 module, without interface module OR4K-T2E.A-844
TMUX module, without interface module OR4K-TMUX.A
T3 MUX module, without interface module OR4K-T3MUX.A
T3Clear application module, w/o interface module OR4K-DS3.A-DUO
T3Clear 2HSS application module, w/o interface module OR4K-DS3.A-2HSS
MIC interface module, with rear panel OR4K-CON.X-MIC
HSSI interface module, with rear panel OR4K-CON.X-HSS
4E1 interface module, with rear panel OR4K-CON.A4E1D
8 DS1interface module, with rear panel OR4K-CON.X-8DS1
8 E1 interface module, with rear panel OR4K-CON.B-8E1D
DS3 interface module, with rear panel OR4K-CON.A-DS3
DS3 protected interface module, dual slot, with rear panel OR4K-CON.X-PDS3
T3 Clear interface module, with rear panel OR4K-CON.X-DUO
T3Clear 2HSS interface module OR4K-CON.A-2HSS