RAD RIC-24/35 V.24/V.35 Interface Converter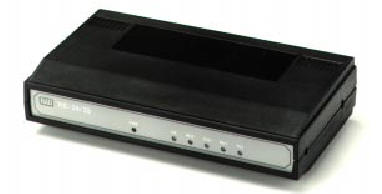 Call us for Pre-sales and discount pricing

301-924-7400 Support
RAD RIC-24/35 V.24/V.35 Interface Converter
RIC-24/35/115 RIC-24/35/230
FEATURES
The RIC-24/35 interface converter enables communication between devices with RS-232/V.24 interface and devices with V.35 interface.
Operating bidirectionally and full-duplex at data rates up to 128 kbps, RIC-24/35 electrically converts the RS-232.V.24 interface signals into V.35 interface signals and vice versa.
DTE/DCE switch selection, for the RS-232/V.24 interface and the V.35 interface, enables direct connection to the data terminal equipment (DTE) or data communication equipment (DCE) on both sides.
RIC-24/35 comes in a compact, durable plastic enclosure requiring minimal rack space. Special hardware for mounting the unit into a 19" rack can be ordered separately (see Ordering). This hardware enables installation of either a single unit, or two units side by side, using standard rack space of 1U (1.75") in height.
SPECIFICATIONS
Converts RS-232/V.24 to V.35 bidirectional
Data rates up to 128 kbps
DCE/DTE switch for both interfaces
Compact, lightweight
LED monitoring
RIC-24/35*
Interface Converter
*
Specify:
115 for 115V power supply
230 for 230V power supply
RM-5
Hardware for mounting one or two units into a 19" rack
ORDERING
RIC-24/35/115
RIC-24/35/230
APPLICATIONS

For discount pricing on RAD Data Communications
email us at sales@data-connect.com
or call 301-924-7400
---