RAD Optimux-T3, Optimux-T3L Multiple E1 or T1 PDH Fiber Multiplexers


Call us for Pre-sales and discount pricing

301-924-7400 Support
RAD Optimux-T3, Optimux-T3L Multiple E1 or T1 PDH Fiber Multiplexers
FEATURES
Supports a combination of T1 and E1 channels
Multiplexes up to 28 T1 or 21 E1 channels into a T3 data stream
Transmission over coax or fiber optic cable
Supports single mode and multimode fiber and single fiber (WDM)
Laser diode option
Range up to 110 km (68 miles)
Conforms to ITU G.703, G.747, G.823, G.824, ANSI T1.107, T1.404, RFC2495, RFC2496
Optional second fiber optic or coaxial link provides automatic backup to the T3 link
Optional redundant power supply
Management using ASCII terminal, Telnet or SNMP management station
Compact, 1U high enclosure
Optimux-T3 provides a simple, flexible and cost-effective solution for transporting multiple T1 and E1 signals at distances up to 110 km (68 miles).
Optimux-T3 integrates up to 28 T1 or 21 E1, or a combination of T1 and E1, channels over a single T3 data stream. This provides an easily configurable solution, flexible enough to meet the specific requirements of a broad range of applications.
Two Optimux-T3 units can be connected over a single fiber (SF) using WDM technology (the transmit signal is at a different wavelength than the receive signal), thus reducing fiber cable costs by 50%.
Various optical interfaces are available:
850 nm for multimode fiber
1300 nm for single mode and multimode fiber
1300 and 1550 nm laser for extended range over single mode fiber
1300 and 1550 nm laser (WDM) for extended range over single fiber.
When required, critical components can be automatically backed up. This ensures that there is no single point of failure. An optional second main link provides backup, using automatic switchover upon link failure. An optional second power supply provides power redundancy and fail-safe operation.
The device is available with either balanced or unbalanced tributary ports:
Balanced with 28 RJ-45 connectors (for both E1 and T1)
Unbalanced with 21 mini-BNC connectors (for E1 only).
Optimux-T3 transmits each of the T1 channels independently, such that the clock of each T1 channel is independent.
To facilitate system diagnostics, Optimux-T3 features LED status indicators, AIS alarm generation, alarm dry contact interface, and diagnostic loopbacks on the E1/T1 and T3 links.
Setup, control and diagnostics can be performed via a supervisory port using an ASCII terminal, via a Telnet application via a dedicated separate Ethernet management port, or via RADview.
RADview, RAD's SNMP management application running in either a PC (Windows based) or UNIX (HP OpenView based) environment provides a user-friendly GUI for Optimux-T3 configuration, monitoring and management.
Optimux-T3 is available as a compact 1U high unit that can be mounted in a 19" (ANSI) or an ETSI rack.
ORDERING
OP-T3-M/CODEC
OP-T3-M/STC
OP-T3B/24/R/ST13
OP-T3B/24/R/ST85
OP-T3B/48/CX
OP-T3B/48/R/CX/D
OP-T3B/48/R/FC15L/D
OP-T3B/48/R/SC13/D
OP-T3B/48/R/ST13L/D
OP-T3B/48/R/ST85/D
OP-T3B/48/SC13/D
OP-T3B/AC/CX
OP-T3B/AC/FC85
OP-T3B/AC/R/CX
OP-T3B/AC/R/CX/D
OP-T3B/AC/R/FC13
OP-T3B/AC/R/FC13/D
OP-T3B/AC/R/SC13L
OP-T3B/AC/R/SC13L/D
OP-T3B/AC/R/SC85
OP-T3B/AC/R/SC85/D
OP-T3B/AC/R/ST/SF1/D
OP-T3B/AC/R/ST/SF2/D
OP-T3B/AC/R/ST13
OP-T3B/AC/R/ST13/D
OP-T3B/AC/R/ST13L/D
OP-T3B/AC/R/ST85
OP-T3B/AC/R/ST85/D
OP-T3B/AC/SC13
OP-T3B/AC/ST13
OP-T3B/AC/ST85
OP-T3B/AD/ST13/D
OP-T3B/AD/ST13MM/D
OP-T3U/48/CX
OP-T3U/AC/CX
OP-T3U/AC/SC13
APPLICATIONS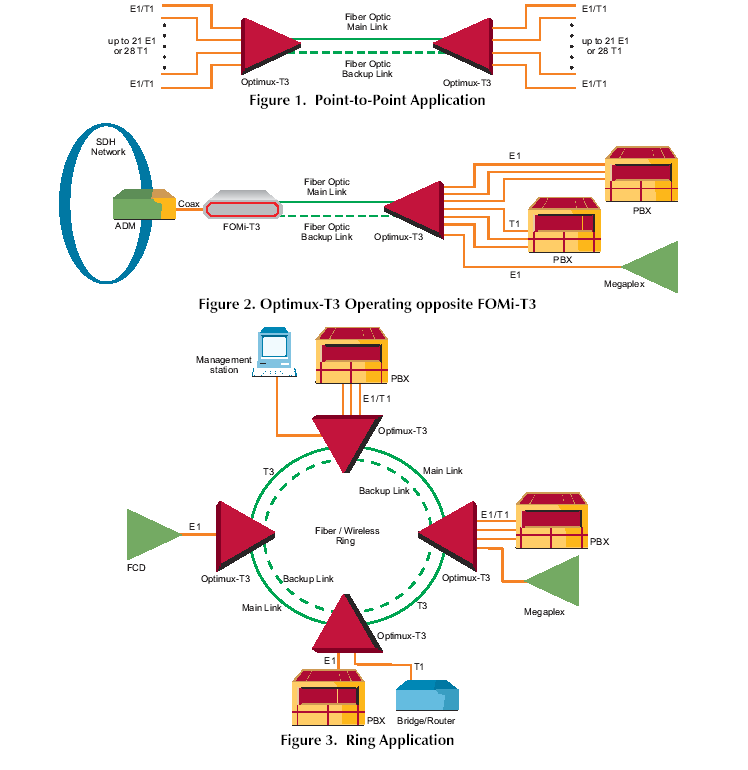 For discount pricing on RAD Data Communications
email us at sales@data-connect.com
or call 301-924-7400
---