RAD FOM-485 Miniature RS-485 Fiber Optic Modem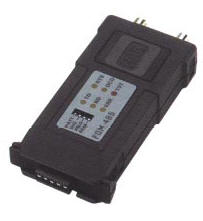 Call us for Pre-sales and discount pricing

301-924-7400 Support
RAD FOM-485 Miniature RS-485 Fiber Optic Modem

FEATURES
The FOM-485, Asynchronous RS-485 Miniature Fiber Optic Modem provides the capability of transmitting an RS-485 or V.11 signal via a fiber optic link. FOM-485 is used mainly for data transmission in utility applications. The asynchronous data rate can be up to 115.2 kbps in full or half duplex mode.
FOM-485 includes a built-in V.52 standard BER tester for testing link integrity. The internal BER tester is activated by an external dipswitch on the top of the modem (PATT). The ERR LED blinks when an error is detected in the data transmission.
Power necessary for FOM-485 is derived from a standard, wall-mounted, power supply DC adapter. The DC voltage range is 300 mA to 9V.
FOM-485 incorporates all the advantages of a fiber optic system, providing:

Lower attenuation than with copper wire
EMI/RFI immunity, saving the cost of expensive and heavy shielding, and complex error checking routines
Almost absolute security and reduction in the cost of data encryption
Eavesdropping is virtually impossible as negligible power is radiated from the fiber
Safety and electrical isolation: no spark hazard and no ground-loop noise problems.
SPECIFICATIONS
Provides Asynchronous transmission up to 115.2 kbps
Operates full duplex over 4-wire of half duplex over 2-wire or 4-wire
Meets ITU RS-485 and ITU V.11 requirements
Meets ITU V.54 and ITU V.52 requirements (in V.11 only)
Operates over multimode or single mode fiber optic
Six LED indicators
Miniature, lightweight, easy to install
Operates with an external, wall-mounted, power supply
Point-to-point or multipoint applications up to 32 units in RS-485
FOM-485/*/#/&
Asynchronous RS-485 Miniature Fiber Optic Modem

* Specify:
230 for 230 VAC power supply
115 for 115 VAC power supply
# Specify:
ST85 for ST type optical connectors with
850 nm multimode
ST13 for ST type optical connectors with
1300 nm single mode
FC85 for FC type optical connectors with
850 nm multimode
FC13 for FC type optical connectors with
1300 nm single mode
SC85 for SC type optical connectors with
850 nm multimode
SC13 for SC type optical connectors with
1300 nm single mode
& Specify:
RJ45 for RJ-45 DTE connector
TB for terminal-block DTE connector
P/S-230/9/300 for 230 VAC power supply adapter
P/S-115/9/400 for 115 VAC power supply adapter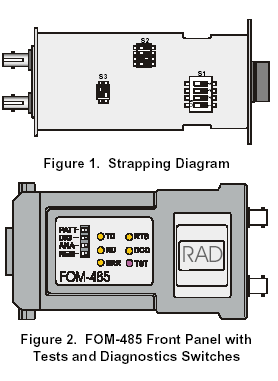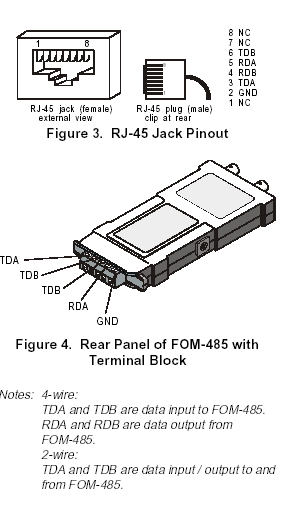 ORDERING
FOM-485/115/SC13/RJ45
FOM-485/115/ST13/RJ45
FOM-485/115/ST13/TB
FOM-485/115/ST85/RJ45
FOM-485/115/ST85/TB
FOM-485/230/ST13/TB


APPLICATION

For discount pricing on RAD Data Communications
email us at sales@data-connect.com
or call 301-924-7400
---