RAD FLM-3 48-Channel Local Fiber Optic Multiplexer



Call us for Pre-sales and discount pricing

301-924-7400 Support
RAD FLM-3 48-Channel Local Fiber Optic Multiplexer

FEATURES
FLM-3 is a Time Division Multiplexer, enabling up to 48 asynchronous terminals to be multiplexed onto a single cable, in point-to-point or ring-type applications. Each channel can be used for either a data signal or a control signal. FLM-3 contains a built-in modem which drives the high speed multiplexed data over a fiber optic cable up to a distance of 4 km (2.5 miles).
Multiplexing is performed by sampling all subchannels at a rate much higher than the data rate of each subchannel, and then interleaving the samples into a frame. Then, FLM-3 transmits the frame onto the main channel. At the other end, the samples are recombined to form the original bits. The high sampling rate of FLM-3 enables transmission of async data and control signals with low distortion and without delay.
FLM-3 has four 50-pin female connectors, located on the rear panel, each supporting 12 channels. Connection of individual units can be provided by using octopus-type cables. These cables split the cable which extends from the 50-pin connector, into 12 individual cables.
Local and remote digital loopback capability, provided through front panel switches and LEDs, enables complete monitoring of the local and remote activities from either end of the system.
SPECIFICATIONS
TDM with integral modem
Up to 48 async subchannels over a single cable
Subchannel data rates up to 38.4 kbps
Point-to-point or ring-type configuration
Local and remote loopback
Transmission range up to 4 km (2.5 miles)
Transparent to character structure
Immunity to EMI/RFI, ground loops and lightning
19" rack mountable, 1U
Easy to install
FLM-3/*/+
48 Port Local Fiber Optic Multiplexer
*
Specify:
ST for ST optical connector
(default is SMA)
+
Specify the power supply:
115 for 115V
230 for 230V
ORDERING
FLM-3/13/ST/115
FLM-3/ST/115
FLM-3/ST/13M/115
FLM-3/ST/220


APPLICATION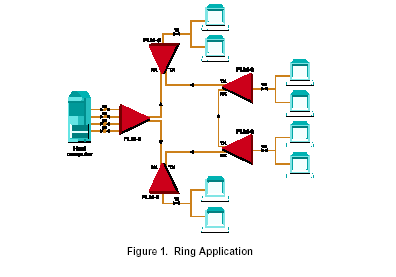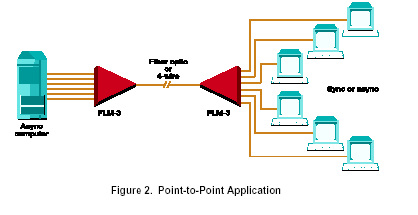 For discount pricing on RAD Data Communications
email us at sales@data-connect.com
or call 301-924-7400
---