Quick Eagle 4262 WAN Probe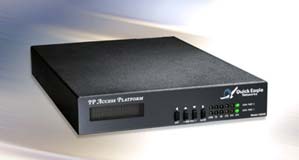 The 4262 Network WAN Probe (T1/T1 or E1/E1) is the newest addition to Quick Eagle's family of intelligent WAN access platforms and IP probes. The 4262 Network WAN Probe connects serially in-line on your T1/E1 network connections and performs network performance monitoring. It requires Quick Eagle Networks' probes (e.g. 4210 CSU/DSU with SLV, 4220 Access Multiplexer with SLV, 4260 Serial WAN Probe, or 4262 Network WAN Probe) at both ends of each WAN circuit to collect in real time throughput (Frame Relay and IP), availability, and latency on the WAN link.
The unit is SNMP-manageable, offers menu-driven configuration, includes comprehensive diagnostics, and complies with industry and regulatory standards. A Troubleshooter feature includes LMI conditioning, link-based testing, and in-band management.
Furthermore, the 4262 Network WAN Probe comes with a full set of network monitoring tools such as RMON-1, RMON-2, and Frame Relay SLA (FRF.13). These tools simplify installation and troubleshooting, thereby reducing network downtime and remote technician costs.
Main Features:
Frame Relay, PPP, and Cisco HDLC
Ethernet management port
Embedded SNMP agent
LMI conditioning, link-based testing and delay monitoring, in-band management
Protocols and applications monitoring (RMON-1, RMON-2)
Frame Relay Service Level Agreement (SLA) FRF.13 compliant
End-to-end IP Service Level Verification
DiffServ performance monitoring
User level security
Time of day synchronization (RFC868)