When you have a remote location that needs connection to your LAN, think about the Patton model 2156 LAN extender. With a simple set of plug-and-play extenders, you can make that connection easily using the existing twisted-pair copper infrastructure already installed worldwide.

The ability of the unit to operate transparently with higher level protocols, like VLAN tagging, enables the 2156 to fit into almost any location where cost-effective LAN extension is needed. The 2156 also provides users with easy-to-read LEDs that enable them to verify that everything is working properly. If there ever is a problem, the built-in test switch helps users quickly figure out which side of the extension is causing the problem.
The 2156 installs quickly?there is no configuration needed. All these features?and the fact they make the most out of the existing copper infrastructure?make the 2156 LAN extenders the best choice for long distance Ethernet extension!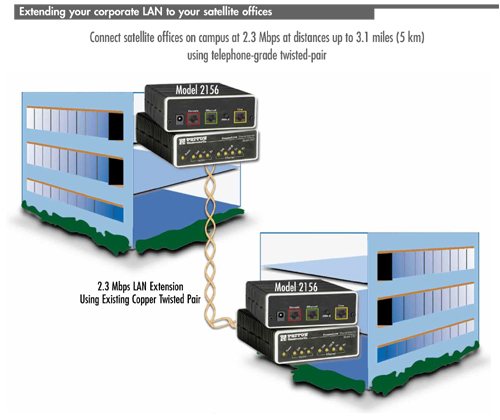 2156/L: CopperLink Ethernet Extender, (local unit), 90 - 260 VAC UI
2156/R: CopperLink Ethernet Extender, (Remote unit), 90 - 260 VAC UI
2156/2PK: CopperLink Ethernet Extender, (Local and Remote units), 90 - 260 VAC UI

Data Rate: 2304 kbps
Diagnostics: V52 compliant (511/511E) pattern generator and detector with error injection mode and Remote Loopback control by a single front panel switch.
LED Status: Copper Link, 10BT Link, Ethernet Status, No Signal, Error, Test Mode
Power: External desk top transformer, 90 - 260 VAC, 50 - 60 Hz (Universal Input), 10 W or -48VDC; shrouded male IEC320 power connector
Transmission Line: Single Twisted Pair of Copper
Line Coding: CAP (Carrierless Amplitude and Phase Modulation)
Line Interface: Transformer coupled, 1500 VAC isolation
Physical Connection: RJ-45, 2-wire, polarity insensitive pins 4 and 5
LAN Connection: RJ-45, 10Base-T 802.3 Ethernet
Protocol: Transparent to higher layer protocols. Supports 802.1 Q VLAN tagged packet transmission
Address Aging: Entries are deleted after 8 minutes of inactivity
LAN Address Table: 4096 MAC Addresses
Frame Latency: 1 Frame
Frame Buffer: 512 Frames
Physical Connection: RJ-45, pin 1 Tx Data +, pin 2 Tx Data -, pin 3 Rx Data +, pin 6 Rx Data +pins 4,5,7,8 no connection
Compliance: FCC Part 15, CE Mark per EMC directive 89/336/EEC and Low Voltage Directive 73/23/EEC, CTR 1, UL1950 UL and cUL listed (Rev A: Listing in process)
Op. Temp.: 32 - 122?F (0 - 50? C)
Humidity: 5 - 95%, non-condensing
Altitude: 0 - 15,000 ft (0 - 4,600 m)
Dimensions: 4.1 x 5.5 x 1.6 in. (105 x 140 x 41 mm)
Weight: 1.6 lbs (0.7 kg)