GDC Universal System Shelf
USS

Call us for Pre-sales and discount pricing

301-924-7400 Support
GDC Universal System Shelf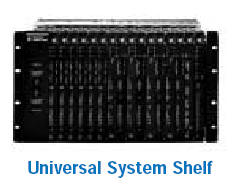 Universal System Shelf (USS) The Universal System Shelf Series provides integrated network packaging for GDC's DataComm non-managed and NMS managed digital and analog access products, and rackmount
version of the Metroplex® 6000 system for T1/E1 voice/data applications. This broad flexibility is provided by a full array of backplanes with specific interfaces to meet individual application needs. The backplanes, available in 2-, 4- or 8-slot assemblies, are easy to install, with power and interface connections readily accessible from the rear of the shelf. The AC-powered shelves have overall dimensions of 483 mm (19 in.) wide by 267 mm (10.5in.) high by 343 mm (13.5 in.) deep and weigh 10 kg (22 lb.). They feature a power
supply compartment containing four transformers, each of which can distribute power to four adjacent shelf slots.
Designed for telephone companies, the USS-2 DC-powered shelf meets the 305 mm (12 in.) depth requirements specified in the Bellcore NEBS standard and has overall dimensions of 483 mm (19 in.) wide by 267 mm (10.5 in.) high by 305 mm (12 in.) deep. The USS-2-DC weighs 7 kg (15.5 lb.), exclusive of power supply modules. In the DC power configuration, one DPS-9 power supply module will power a fully loaded shelf. An optional power supply module can be plugged in for redundancy.

The following models are available: USS-1-D (117 VAC); USS-1-J (100 VAC); USS-1-E (220 VAC); USS-1-U (240 VAC); USS-2-DC (–48 VDC, redundant or nonredundant). Table 1 shows current USS backplanes and the products they support.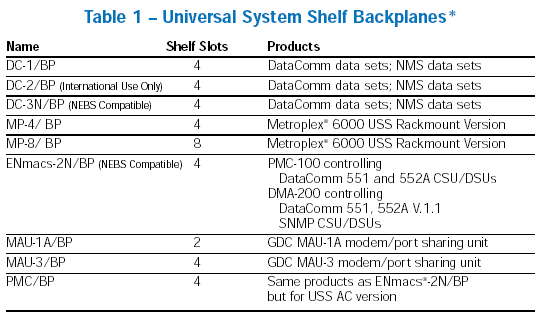 Purchase orders accepted on General DataComm equipment
Contract Buying and Volume Discounts available !!
Please contact us 301-924-7400