GDC UAS 7000 Series
Universal Access System 7000 Series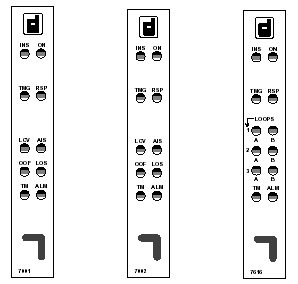 Call us for Pre-sales and discount pricing

301-924-7400 Support
GDC UAS 7000 Series
Universal Access System 7000 Series
Overview:
The copper loop has long been the dominant media used to distribute telephone, telex and data services. Today, fiber optic cable is rapidly growing as an alternative media for local distribution; fiber is being installed directly into the customer's site or to the curb with copper loops providing the final segment. However, fiber installations require a substantial investment and a large concentration of traffic. Because of this, twisted pair cables will continue to play a significant role for provisioning subscriber services.

GDC's Universal Access System (UAS) provides fast and cost effective provisioning of advanced digital services and maximizes
use of the existing 2-wire copper loop infrastructure. The UAS supports subrate speeds to 2 Mbps provisioning on a single platform and fractional T1/E1 and multi-loop grooming services.

An integrated SNMP-based network management architecture supports high quality of service. The UAS 7000 enhances GDC's UAS system by adding access multiplexing to the platform. Located at the central site, the UAS 7000 works across the copper loop with GDC's existing data set components.
The System

UAS 7616 DIU

Designed for more efficient local loop distribution using DSL (Digital Subscriber Line) technology, the UAS 7616 DIU (Dropside
Interface Unit) interoperates with any co-located GDC 7001/7002 NIU (Network Interface Unit) via the SpectraComm/Universal Access shelf, eliminating the need for external multiplexing equipment. The UAS 7616 supports one, two or three independent DSL interfaces, each capable of single or dual channel operation. Each UAS 7616 supports up to 6 x 64 Kbps timeslots. Only five DIU cards are required to serve as many as 15 channelized E1 subscribers and only four are required to serve up to 12 channelized T1 subscribers. As with all DIUs, the 7616 uses the SpectraComm/Universal Access shelf timing.

UAS 7001/7002 NIUs

The UAS 7001 (T1) and UAS 7002 (E1) NIUs provide an interface to T1/E1 and fractional T1/E1 services. The NIUs offer interfaces for both short distance and long distance operation. Operating with 7616 DIUs, the NIUs add the advantage of T1/E1 multiplexing. They provide the ability to groom multiple customer locations into a single T1/E1 aggregate at the central site. This provides an elegant and economical method of providing high speed access to backbone TDM, Frame Relay, DACS-based and ATM networks.

SpectraComm/Universal Access Shelf

Entirely modular and SNMP-managed, UAS products are housed in GDC's SpectraComm/Universal Access Shelf at the central
office. They connect across the subscriber loop to standalone network terminating units (NTUs) at the remote customer sites.
The shelf's 16 slot design enables high density processing within a very small package (19" W x 7" H x 12" D). The shelf is available
in both AC and DC versions, with optionally redundant power supplies. The SpectraComm UAS shelf also incorporates a versatile backplane architecture to help minimize cabling and deliver application-specific solutions. Additionally, the SpectraComm Universal Access shelf accommodates a SpectraComm alarm card that supports external contacts to activate local and remote customer alarm systems.

Network Management

UAS 7000 Series products are managed through an associated SNMP manager or through GDC's unique TEAM series of management applications. TEAM applications offer a graphical view of the equipment and work in cooperation with HP OpenView.
TEAM applications use SNMP to perform configuration, maintenance, status and other system functions via the SpectraComm
Manager (SCM) to shelf cards and associated remote units. The IP addressable SCM is an SNMP agent that proxies requests to
the other cards in the SpectraComm/Universal Access shelf.

Performance and Alarm Monitoring

Because the UAS system is used to provision services, it must be capable of reliable operation, rapid fault isolation and fast service restoral. Built-in features enhance its reliability by helping to isolate sectional faults. While UAS system elements are
designed to be compatible with relevant standard network diagnostics, full management may be obtained by means of SNMP,
the UAS core network management protocol.

Multi-level Redundancy

One UAS 7001/7002 NIU can back-up another NIU as a spare UAS system element, furnishing redundancy for mission-critical
service applications. The primary NIU passes the T1/E1 data stream to the appropriate data highway. When redundancy is
required, the backup NIU takes complete control from the primary NIU. This type of fail-safe element redundancy provides
insurance against either a card failure or a network failure when an alternate wideband network interface port is available.

DSL Technology

DSL transmission technology has become the de facto worldwide standard for enhancing the capacity of today's local loops to
meet increasing end-user narrowband service requirements for high speeds. Together, the UAS 7001/7002 NIUs and the UAS
7616 provide the most efficient method of integrating DSL loop traffic into the higher-order network. Up to four NIUs can be colocated in a shelf.

The UAS 7616 sends signals from subscriber 64 Kbps timeslots across the UAS data highways to the NIU. The NIU then combines
these signals from other UAS 7616s and sends the composite signal to the network interface. Each of the backplane's data highways can handle payloads from 64 Kbps to 1.920 Mbps, with bandwidth allocated to the DIUs as required by the applications. Up to 24 T1 or 30 E1 ports can be associated with each NIU for maximum T1/E1 and fractional T1/E1 services and cost-effective provisioning using existing resources. Compatibility with a full range of today's higher-order network offerings is ensured through support for B8ZS, HDB3 and optional AMI line coding.

For More Information, Applications, Diagrams:

Purchase orders accepted on General DataComm equipment
Contract Buying and Volume Discounts available !!
Please contact us 301-924-7400