GDC Turbo Data Digital Compression
HOW TO DRAMATICALLY INCREASE THE CAPACITY
OF TMS 3000 AND ocm networks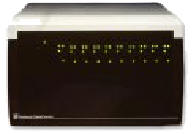 Call us for Pre-sales and discount pricing

301-924-7400 Support
GDC Turbo Data Digital Compression
INCREASE THE CAPACITY OF TMS 3000 AND ocm networks

Advances in technology and decentralized data processing have allowed companies to improve business efficiency and performance by automating key functions and introducing new electronic applications at the
branch office level. As a result, branch offices need to access the backbone communications network in order to electronically exchange information. Today's networks therefore need to integrate the communications requirements of every business location and to support high speed connectivity (often with 56/64 Kbps or more of bandwidth) between the branch office and the backbone network. General DataComm's OCM-2000 is a powerful, cost-effective networking platform that extends the backbone network's capabilities to remote branch office locations.
OVERVIEW

Overview General DataComm's OCM-2000 Office Communications Manager integrates voice, fax, data, video, image and LAN over common digital facilities. It offers connectivity to a variety of digital carrier services, allowing users to select the one providing the best performance/cost ratio in each location. Service options include: 56/64 Kbps leased line services, fractional T1/E1 services (groomed N x 56/64K services), and T1/E1 services.

The OCM-2000 is ideal for branch office locations. Its modular architecture makes it easy to install and maintain. To guarantee reliable performance, the OCM-2000 offers optional, fully redundant power supplies, common logic and line interface modules (LIMs). At backbone network locations, the OCM-2000 connects to General DataComm's Transport Management System (TMS-3000) product family. The OCM-2000 is fully channel compatible with the TMS, and all OCM management functions, including configuration, monitoring diagnostics, fault management, and network restoral, are performed from the central TMS controller(s).

OCM-2000 key features include

• Support for a variety of digital services for easy implementation of global networks
• Integration of both traditional voice and data, video conferencing, and imaging over common digital facilities
• Multi-aggregate capability for resilient mesh networks with diverse routing options
• Configuration and management from a single central-site platform
• Exceptionally high quality voice compression options
Global Networks
Many companies want to connect international locations to their networks. Since transmission costs usually increase with distance, optimizing bandwidth is essential to minimizing network costs. The OCM-2000's ability to connect to a variety of digital services allows users to plan and implement global networks that accommodate varied service environments. In addition, the OCM-2000 helps optimize bandwidth use through voice compression capabilities, as well as data compression options.

Application Support

The OCM-2000 supports traditional voice and data applications as well as video-conferencing, and imaging. These applications are consolidated and transported across a single communications path to the backbone network. Voice Modules Users can satisfy virtually any voice application requirement by selecting from numerous OCM-2000 options. The ADPCM module provides voice at user programmable speeds of 64
Kbps, 32 Kbps, 24 Kbps, or 16 Kbps. Where it is important to maximize the use of available bandwidth, the OCM-2000 offers two low bit rate voice options using advanced compression techniques:

• The CELP Voice Channel Module, which supports 4.8, 6.4 and 9.6 kbps rates and Group III fax bypass at 6.4 and 9.6 Kbps. The module supports 2- or 4-wire analog connections and can be configured for different signaling requirements. Digital echo cancellers enhance performance on satellite and long distance terrestrial links.
• The Dual Private Voice (DPV) card, which supports two analog connections (2- or 4-wire) and compression rates of 9.6 and 8.0 Kbps using the CS-ACELP algorithm. In addition, the DPV supports fax and includes an
onboard echo canceller.
• The Voice Transcoder Platform (VTP), a single slot module that saves on backbone bandwidth by compressing up to four network circuits (64K PCM voice) to 9.6 or 8.0 Kbps using CS-ACELP. The circuits are then transported as channels in a subaggregate in bit format. Termination of the voice circuit can occur on a GDC Dual Private Voice Module (DPV) or another VTP, digital to analog or digital to digital.

For More Information:

Purchase orders accepted on General DataComm equipment
Contract Buying and Volume Discounts available !!
Please contact us 301-924-7400