GDC TEAM Network Management
GDC SNMP/HP OpenView Solutions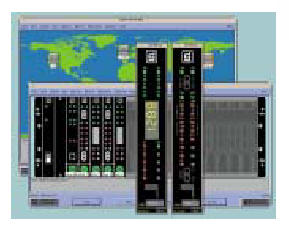 Call us for Pre-sales and discount pricing

301-924-7400 Support
GDC TEAM
Network Management GDC SNMP/HP OpenView Solutions
Highlights

• Standards-based management via SNMP and MIBs
• Fully integrated into HP OpenView Enterprise and Distributed Enterprise environments
• Centralized control of GDC access products plus any IP-addressable network elements
• Unique GDC View presents front panel status LEDs
• Detailed graphics show GDC devices in the proper card slots
• Management of multiple GDC devices via a single IP address
Overview

GDC's Total Enterprise Access Management (TEAM®) provides a convenient, user-friendly means to manage, control and maintain GDC's SNMP-equipped products. TEAM is a collection of applications seamlessly integrated into Hewlett-Packard's HP OpenView network management software platform. These applications use an intuitive point-and-click architecture that provides easy access to powerful management tools.

A New Point of View

TEAM delivers the high visibility, distributed architecture and open, standards based platform essential for the control of GDC's SNMP access products. With TEAM Network Management, every node, however remote, is as close as a network administrator's workstation. A custom designed graphical user interface (GUI) generates realistic views of any GDC shelf, front panel, or control card complete with LED status indicators. Unlike other systems, this unique "GDC View" of the network enables intuitive interaction with remote devices and immediate access to all management functions without a complex hierarchy
of menus.

The next best thing to having an expert staff member on site at every node, TEAM's distributed approach allows management via multiple controllers located throughout the network. With its support for a large number of network elements, it is particularly effective in environments with many unattended remote sites.

Standards-Based Management Today Conformity

with a standards-based management protocol and an open management platform are fast becoming basic requirements for any network manager. TEAM Network Management uses SNMP, the standard internetworking management protocol, and HP OpenView — widely-adopted as the open management platform of choice. It also makes use of the powerful multitasking capabilities of UNIX, using HPUX and Solaris operating systems.

Capabilities

GDC's TEAM applications provide Fault Management through SNMP traps. HP Open-View receives, stores and displays alarm and fault information from all network devices and TEAM provides the detailed information required to isolate the faults. Pull down menus and pop up windows simplify Configuration Management. All configurations can be saved to the unit or as a template for
subsequent device configurations.

TEAM applications implement Performance Management through detailed reports that display critical line parameters. Reports are customized to specific devices, such as ESF statistics on a digital access product or number of drop outs on a V.34 modem. Reports also offer Accounting Management by displaying and storing network usage information like data rates and connect times.
TEAM applications make use of user-defined SNMP community names for Security Management.


SpectraComm Products
(UNIX-based)

TEAM CORE
TEAM SC 553
TEAM 800 T3
TEAM V.34/Dual V.34
TEAM SC 521A
TEAM 202
TEAM 5001
TEAM 5520
TEAM 5553
TEAM 5034
UAS Products
(UNIX-based)

TEAM 600
TEAM 700
TEAM 7000
TEAM 7624
TEAM 7600
TEAM 7700
TEAM 2011
Metroplex Products


UNIX-based)
TEAM 6000

For More Information:

Purchase orders accepted on General DataComm equipment
Contract Buying and Volume Discounts available !!
Please contact us 301-924-7400