GDC SpectraComm IP
Reliable Connectivity For Remote Network Management





Call us for Pre-sales and discount pricing

301-924-7400 Support
GDC SpectraComm IP
Reliable Connectivity For Remote Network Management
Highlights

• Low-cost, reliable routing or LAN-extension
• Supports scalable high performance LAN via 10/100BASE-T Ethernet
• Telco-tough NEBS Level III-compliant packaging

Introduction

As Carriers introduce IP equipment to their networks, GDC offers two access solutions for LAN-attached IP
devices and legacy (Craft Port) devices. Either mode of operation can be conducted over the Carrier's T1 / FT1 or DDS network, as well as over a dial-up PSTN.

• In router mode, the SpectraComm IP (SC-IP) provides management access by extending the Carrier's internal network to remote locations where separate IP networks are required.

• In LAN-X mode, the SC-IP can be deployed as a LANextension device for those remote locations where a
single 'flat' IP network is required.
Connectivity via IP Routing

Figure 1 demonstrates how the SpectraComm IP uses static routing to forward IP data between serial WAN ports and an Ethernet (LAN) switch and connects to the craft ports of up to eight co-located devices. Dial-in users may be authorized for read or read-write access to remote devices over the private switched telephone network.

Connectivity via LAN Extension

Figure 2: When placed in LAN-extension mode, the SC-IP extends the Carrier's local area networks. Deployed in pairs, SC-IP cards are connected to their separate LANs via the Ethernet interface and are connected to each other 'back-to-back' via the T1 or WAN. GDC's LAN-extension (LAN-X) is used as the link layer WAN protocol.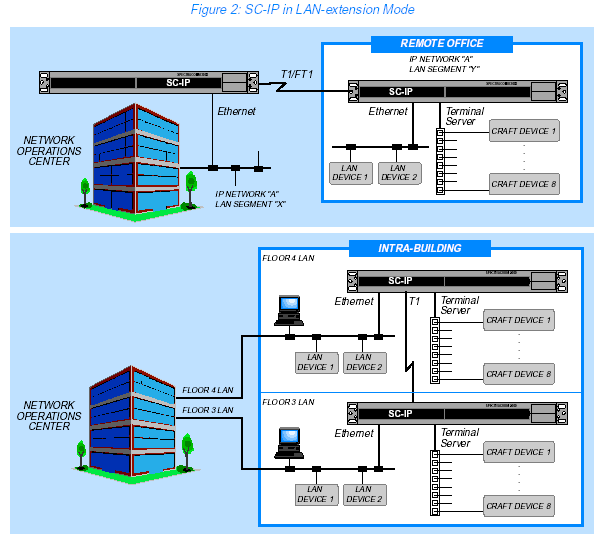 Switched Ethernet Applications

When additional NEBS-compliant Ethernet connectivity is required, SC-IP can integrate with SpectraComm Ethernet Switch (SC-ES) cards, offering scalable IP connectivity in 9 or 18 port increments.
For more information go to:

SpectraComm IP PDF

Purchase orders accepted on General DataComm equipment
Contract Buying and Volume Discounts available !!
Please contact us 301-924-7400