GDC SpectraComm 521A (SC 521A) DSU Card
076P018-011 076M018-013 076M018-011

Call us for Pre-sales and discount pricing

301-924-7400 Support
GDC SpectraComm 521A (SC 521A) DSU Card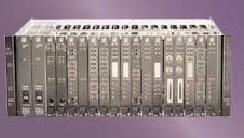 SpectraComm 521A (SC 521A) DSU Card

SC 521A Key Features:

• Network Managed DDS/GDS DSU
• Supports all DDS data rates — 2.4 - 19.2 kbps, 56/64 kbps, 64 kbps clear channel
• Extends SNMP management for remote SC 521A
• Extended dynamic range
• Supports line measurements
• Interoperates with all standard DDS DSUs
• Data Rate Adaption
• Supports SC 2000 Craft Port
• Auto configuration with SCM

The SpectraComm 521A is an all-rate, rackmounted, SNMPmanaged DSU supporting a direct interface to standard and generic digital service networks. The SC 521A operates at line rates of 2.4 to 64 kbps in point-to-point and 2.4 to 56 kbps in multipoint applications.
.



Spectracomm 521 Line by Line Alternatives PDF

Purchase orders accepted on General DataComm equipment
Contract Buying and Volume Discounts available !!
Please contact us 301-924-7400