GDC PC-202 1200bps Private Line Modems
053ACDN-202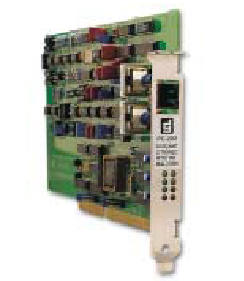 Call us for Pre-sales and discount pricing

301-924-7400 Support
GDC PC-202 1200bps Private Line Modems 053ACDN-202

Highlights:

• Leading-edge design technology, ensuring easy installation and operation
• Simple options selection without any complicated programming
• Custom VLSI technology yields superior performance and reliability

Overview

The PC-202 modem card is designed for use in a PC ISA card slot and will be detected by the system as a simple "COM PORT" module. The PC-202 card can be configured through dip jumpers to respond to COM1, COM2, COM3, and COM4, as well as generating interrupts on IRQ 3, 4, 5, 7, 9 and 10. The card also has the circuitry to generate a unique 48 bits serial number.

Description

General DataComm's PC-202 modem combines the functionality of Bell-compatible, 1200 bps private line communications with a practical, low profile design that fits into any PC supporting ISA standards. Using state-of-the-art technology, we can now bring you a compact, efficient modem that is both economical to own and simple to operate.

Superior Performance

The PC-202 is the perfect choice of asynchronous transmission in both point-to-point and multipoint applications. Custom Very Large Scale Integration (VLSI) provides advanced features while maintaining the best price performance available. Optimum data throughput is ensured by a sophisticated compromise equalizer, for immunity to impairments normally encountered with unconditioned voice grade facilities. And the anti-streaming timer protects against the potential disruption caused by faulty, "streaming" terminals.

Easy to Use

Simple installation, setup and use were primary considerations behind the design of the PC-202. So installation is fast and uncomplicated. In addition, GDC's experience ensures the modem meets operating requirements for the widest range of applications without difficult programming procedures. The PC-202 options are set using a jumper bank to simplify configuration. Bringing up a network can be difficult, GDC simplified matters.

Powerful Diagnostics

A comprehensive array of diagnostic test on the PC-202 provides accurate detection of system faults and helps to quickly restore service. All tests can be initiated from a diagnostic selection register, which can be controlled by your terminal software.

Modification Requests

General DataComm will gladly accommodate any modification request of the PC-202 to meet specific communication needs,
such as lottery terminals, Point-of-Sale and alarm monitoring. Modification costs and delivery schedule are submitted for review and approval.

Purchase orders accepted on General DataComm equipment
Contract Buying and Volume Discounts available !!
Please contact us 301-924-7400