GDC GPS-13 DPS-7A DPS-9 DPS-18
Power Supplies

Call us for Pre-sales and discount pricing

301-924-7400 Support
GDC GPS-13 DPS-7A DPS-9 DPS-18
Power Supplies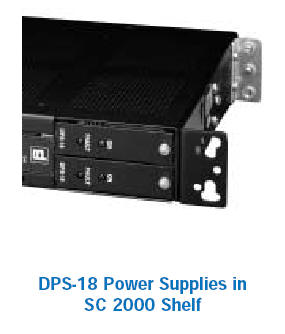 GPS-13
The GPS-13 is used in the 10-slot Multipak enclosure for OCM and SpectraComm systems. It accepts AC input power and supplies DC power to the plug-in cards via connectors in the enclosure backplane. The GPS-13 accommodates an extensive range of input voltages, 90 VAC to 265 VAC. Each module has an LED indicator to alert you to its current operating status. Both North American (GPS-13) and international (GPS-13E) versions are available.

DPS-7A
The DPS-7A is a highly adaptable DC power supply designed for use in the DS-5 and Dual DATX shelves. Like the GPS-11, two DPS-7As can be used in the same shelf, enabling load sharing or redundancy, and the second power supply can be installed, removed or activated without affecting shelf operation.

DPS-9
The DPS-9 is a DC power supply used in the DS-6 and USS-2-DC shelves. Depending on the configuration, one DPS-9 can support a whole shelf. Or two DPS-9s can be used to provide load sharing
and redundancy.

DPS-18
The DPS-18 is a DC power supply used in the SpectraComm 2000 shelf. During normal operation, two DPS-18 units perform load sharing. However, should one fail, the other supply will automatically power the entire SC 2000 shelf. Any failed power supplies can be removed and replaced without service interruption.


Purchase orders accepted on General DataComm equipment
Contract Buying and Volume Discounts available !!
Please contact us 301-924-7400