GDC Metroplex 6000:
Super Intelligent Access Multiplexer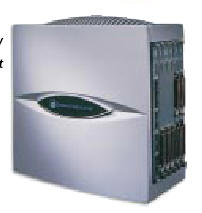 Call us for Pre-sales and discount pricing

301-924-7400 Support
GDC Metroplex 6000: Super Intelligent Access Multiplexer


Highlights

• Up to two T1 interfaces using the latest wideband technology
• Modular, scalable architecture reduces equipment investment and field repair time
• Supports a variety of both voice and data channel interfaces on one platform
• Provides VT-100 craft port control plus Telnet or SNMP management
Overview

General DataComm's Metroplex® 6000/T1 is a next generation, intelligent access multiplexer designed for highly cost-effective and efficient termination of both T1 and High bit rate Digital Subscriber Line or HDSL. The Metroplex 6000 replaces older wideband multiplexing technology with a compact, high channel density system that organizes branch office 56/64 Kbps and fractional wideband data traffic along with FXS, FXO,
E&M and PLAR voice. It provides standards-based access to wideband services, multiplexing data and/or voice channels onto one or two wideband lines.

Data and voice traffic can be integrated at the branch office level and valuable T1 bandwidth can be shared by combining data with PBX applications via a true "drop-and-insert" capability. You gain increased control of services that once resided inside the carrier "cloud," while achieving the right level of supervision —from management via a craft port interface or Telnet to sophisticated open management choices via GDC's TEAM™ 6000 HP Open-View-based, SNMP management application.

Effective Service Provisioning

Metroplex 6000 helps service providers, distributors and resellers to introduce a host of CPE (Customer Premises Equipment) products that provision data and voice on one platform. With Metroplex 6000, migration to a premises-based solution — where the familiar wiring closet serves as the access point to public wideband services — allows savings on loop maintenance, central office space and equipment. The
Metroplex 6000 can also be combined with the UAS (Universal Access System) 7000 Series as part
of GDC's total multiservice provisioning strategy for deriving maximum bandwidth from existing copper loops.

Diverse Applications

Some of the Metroplex 6000's extensive range of applications include:

• Single-ended public network access multiplexing at the branch office level for corporate environments
• Service provider termination of voice and data using T1 at the customer premises (Figure 1)
• Point-to-point T1 multiplexing over private facilities with the added benefit of consolidated voice
and data.



For More Information:
GDC Metroplex 6000 Super Intelligent Access Multiplexer PDF

Purchase orders accepted on General DataComm equipment
Contract Buying and Volume Discounts available !!
Please contact us 301-924-7400