GDC Innovx NetPath VPN Router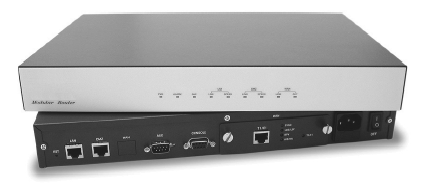 Call us for Pre-sales and discount pricing

301-924-7400 Support
GDC Innovx NetPath VPN Router
Introduction

The Innovx NetPath VPN router offers IP/VPN capabilities for secure remote access to your enterprise network from anywhere on the Internet. In addition, the NetPath VPN allows the remote computer to mount network file shares and peripherals located on the enterprise network. As part of GDC's Innovx family of products, the NetPath VPN offers the high reliability and safety required in mission-critical enterprise environments.
Features and Benefits

• Modular E1 or V.35 interface card for WAN connectivity
• Supports Layer 2 WAN protocols PPP and HDLC
• Dual 10/100 Mbps auto-sensing Ethernet ports for LAN access
• Supports Firewall, VPN, content filtering, and QoS
• Supports RIP-I/II, OSPF, and BGP-4 routing protocols
• Telnet/SSH, HTTP (web), and SNMP management
• Seamless interoperability with other vendorsí routers
• Reliable performance by using the latest hardware innovations
• Optional ADSL interface
• 32-Bit RISC CPU
Secure and Managed

The Innovx NetPath VPN can be monitored and managed using standard protocols, including Telnet/SSH, SNMP and HTTP (web) for secure remote configuration and management over public Internet. Local management via a craft interface is also provided. Management access to the unit is username and password protected. URL and Formal Expression filtering reject access from unwanted sources.

Specifications
Physical & Electrical Specifications

Innovx NetPath VPN Dimensions
Can be mounted in a 19-inch or 23-inch wide rack with a
rackmount kit.
Width: 350 mm
Depth: 235 mm
Height: 45 mm (1 RU)
Weight: 2.4 kg
Electrical Characteristics
Power Input: 90 to 264 VAC
Environmental Characteristics
Operating Temperature: 0 to 55 deg. C.
Storing Temperature: -20 to 70 deg. C
Relative Humidity: 0% to 95% non-condensing
Operating Temperature: 0 to 50 deg C
Storage Temperature: -30 to 70 deg C

Standards Compliance

FCC Part 15 Compliance, Subpart J
Class B CISPR/FCC
WAN interface complies with ITU-T G.703, G.704, G.823
LAN interface complies with IEEE802.3 10Base-T Ethernet and IEEE
802.3u 100 Base-TX Fast Ethernet.

Operational Specifications

Performance & Functions
32 Bit RISC CPU
8 Mbytes flash memory or above; or 32 Mbytes SDRAM or above
IP Routing: Static Routing, TCP/IP, UDP, ICMP, APR, RIP-I, RIP-II, OSPF, BGP-4
WAN Protocol: Frame Relay
Data-link Layer Protocol: PPP, CISCO HDLC
VPN Support: Software IPsec (optional) and Hardware IPsec (optional)
VPN tunnel: 20 to 100 tunnels for option
Firewall Support: Built in NAT firewall using stateful packet inspection
Content Filtering: URL Filtering, Formal Expression Filtering
Firmware Upgrade: Through TFTP Upload
DNS Support: Domain Name Server (DNS) Relay
DHCP Support: Dynamic Host Configuration Protocol (DHCP) Server and Client

Management Interfaces

SSL web-based management
Secure Telnet (SSH v1 and v2 support)
SNMP Agent (v1 and v2c support)
Console interface via one DB9F RS-232D connector

WAN Interface

V.35 Module:
Rates up to 8 Mbps; Connector type: DB 25 with converter cable
T1/E1 Module:
Rates include Integrated T1/E1 or Fractional E1;
Connector type: RJ-45 phone jack

LAN Interface
Dual 10/100M Base-T Ethernet Ports with auto-sensing
Connector type: RJ-45 phone jack

Purchase orders accepted on General DataComm equipment
Contract Buying and Volume Discounts available !!
Please contact us 301-924-7400