GDC Innovx NetPath VPN DSL Router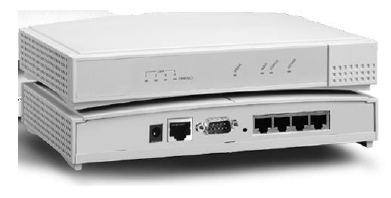 Call us for Pre-sales and discount pricing

301-924-7400 Support
GDC Innovx NetPath VPN DSL Router
Introduction

The Innovx NetPath DSL router offers secure IP/VPN capabilities for secure remote access to your enterprise network from anywhere over the Internet. NetPath DSL allows the remote computer to mount network file shares and peripherals located on the enterprise network. As part of GDC's Innovx family of products, the NetPath DSL offers the high reliability and safety required in mission-critical enterprise environments.
Features and Benefits

• Provides four RJ-45 LAN ports, one RJ-45 WAN port, one modem dial up serial port
• Supports 56K modem/ISDN TA dial backup
• Supports NAT, DHCP protocol and DMZ host
• Supports DDNS for dynamic IP environment
• Provides firewall features
• Supports port forwarding and virtual server
• Provides IPSec VPN capability with 32 tunnels
• Supports URL blocking for restricting inappropriate Internet access
• Supports web-based configuration and monitoring
• Supports IP routing to share a single account between multiple workstations
• Firmware upgradeable
Secure and Managed

The Innovx NetPath DSL supports secure web-based (HTTP) configuration for easy installation and monitoring devices throughout the network. Management access to the unit is username and password protected. URL blocking and robust firewall features reject access from unwanted sources.

Specifications
Physical & Electrical Specifications

Innovx NetPath DSL Dimensions
Width: 150 mm
Depth: 230 mm
Height: 38 mm
Weight: 0.88 kg

Electrical Characteristics
Power: 12 VDC, 1.2A

Environmental Characteristics
Operating Temperature: 0 to 40 deg. C.
Storing Temperature: -10 to 70 deg. C

Standards Compliance

Ethernet Standard: IEEE 802.3, IEEE 802.3unet.

Operational Specifications

Performance & Functions

NAT: Port forwarding, Virtual server, DMZ Host
Function: DDNS, UPnP
VPN: Up to 32 IPSec VPN tunnels
VPN Encription Algorithms: DES/3DES/AES
Firewall: URL blocking, Hacker attack detection, IGMP disable,
System log

Physical Interfaces
Four 10/100M Ethernet RJ-45 ports
One 10/100M WAN RJ-45 port
One RS-232 dial up backup port

Management
Web-based configuration and monitoring

LAN Interface
Dual 10/100M Base-T Ethernet Ports with auto-sensing
Connector type: RJ-45 phone jack

Purchase orders accepted on General DataComm equipment
Contract Buying and Volume Discounts available !!
Please contact us 301-924-7400