GDC Innovx NetPath DSLAM-48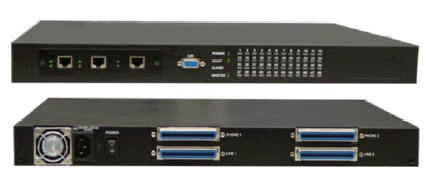 Call us for Pre-sales and discount pricing

301-924-7400 Support
GDC Innovx NetPath DSLAM-48
Increased Bandwidth through ADSL2/2+ DSL Technology
Introduction

The recent technology advances have led to largely increased bandwidth capacity for ADSL. GDC's Innovx
NetPath DSLAM-48 supports the ADSL2/2+ DSL technology. The NetPath DSLAM-48 delivers a 48-port ADSL2/ ADSL2+ subscriber interface with built-in POTS splitter. In areas where economy or geography does not allow for fiber as access media, the NetPath DSLAM-48 presents the same type of services to the end-user as if connected via any other broadband access technology.
Features and Benefits

• 48 ports ADSL2/ADSL2+ Subscriber Interface with build-in POTS Splitter
• 10/100/1000 Base-T or Fx Uplink/Subtend Interface (module selectable)
• Subtending capability allows up to 8 units to be cascaded and managed as one unit
• Microsoft NT/SNMP-based GUI EMS
• Local RS-232 CLI, Ethernet SNMP/TELNET, and Remote in-band SNMP/TELNET management
• Firmware upload/download via FTP or TFTP
• Supports up to 128 MAC addresses per port and 2K Multicast MAC addresses
• Support Static VLAN and Port-based VLAN
• VLAN filtering, MAC Filtering, IP Filtering, Access Control List by MAC and IP address
• Traffic prioritization (802.1p)
• Input and output Rate limiting
• Uplink Aggregation (802.3ad)
• (Future) BRAS support, DHCP Server & Relay, PPPoE, MPLS, VLAN based VPN, L3 router feature, L2TP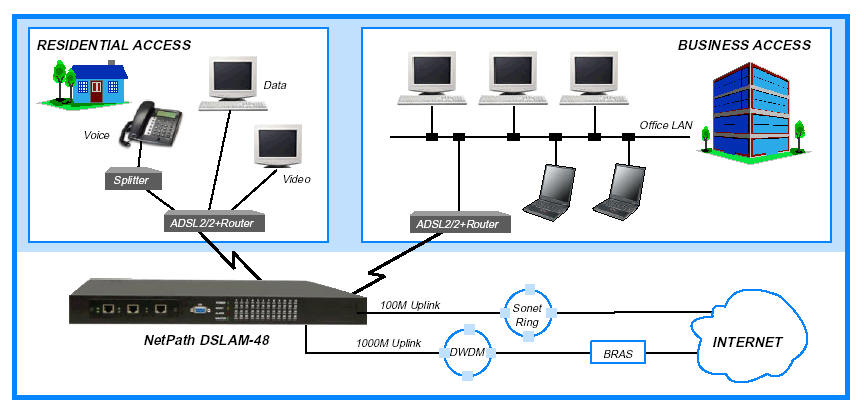 Specifications
Physical & Electrical Specifications

Electrical Characteristics
AC power: auto ranging 90 ~ 250 VAC, 50-60 Hz, IEC connector
DC power: -42 ~ 56 VDC
Power Consumption: 150 watts
Environmental Characteristics
Operating Temperature: 0 to 50 deg. C (32 deg. F to 122 deg. F)
Storing Temperature: -30 to 70 deg. C (-22 deg. F to 158 deg. F)
Relative Humidity: 5% to 90%, non-condensing
Supported Protocols

Spanning Tree Protocol (802.1d)
PKI certificate requests (PKCS# 7 and PKCS# 10)
Tagged VLAN (802.1q), Static VLAN & Port-based VLAN
Traffic prioritization (802.1p)
Link Aggregation (802.3ad)
Ethernet in the First mile (802.3ah
IGMP snooping
GMRPI GVRP
LACP
LACP marker
SNMP/UDP/IP/MAC/Ethernet

Compliance Standards

IEEE 802.3 10 Base-T Ethernet
IEEE 802.3u 100 Base-TX Fast Ethernet
ANSI/IEEE 802.3 Nway Auto-Negotiation
RFC-768 (UDP)
RFC-791 (IP)
RFC-792 (ICMP)
RFC-793 (TCP)
RFC-959 (FTP)
RFC-2131 (DHCP)
RFC-2068 (HTTP)

ATM

Support UBR & CBR & VBR-nrt
VPI range (0-4095) and VCI range (1-65535)
Support OAM F4/F5 loopback
RFC-2684 (RFC-1483), multi protocol over ATM
Built-in BRAS feature to support RFC-2516, PPPoE over ATM

Security Features

Three levels of user's privilege
Auto-logout
VLAN filtering
MAC filtering
IP filtering, access control list by MAC and IP address
Supported MIBs

xDSL MIBx
IETF RFC-2662 Definitions of Managed Objects for ADSL lines.
IETF draft ADSL line extension MIB Definitions of Managed Objects
for ADSL lines.
ITU-G.997.1 Physical Layer Management for DSL Transceivers.
ADSL Forum TR-024 DMT line code specific MIB.
ATM MIBs
RFC-1514, 2515 Definitions of Managed Objects for ATM
management.
Packet MIBs
RFC-1213 MIB-II
Draft-ietf-bridge-smiv2-03.txt (update RFC-1493)
Draft-ietf-bridge-extv2-00.txt (update RFC-2674)
RFC-1757 RMON MIB (group 1, 2, 3, 9)
RFC-2863 Internet Group MIB using SMIv2
RFC-2665 Ethernet-like interface MIB
Private MIBs
Any specific private traps

Operation Specifications

Management Interface
Microsoft NT/SNMP-based GUI EMS
Local RS-232 CLI, and Ethernet SNMP/TELNET management
SNMP v1, v2c, v3
Firmware upload/download via FTP or TFTP
Alarm status and power indicators
Event traps and logging
Subscriber information management
ADSL/ADSL2/ADSL2+ Interface
Comply ITU G.992.1 (G.DMT), Annex A, B, C and Annex H;
G.DMT.bis; ITU G.992.2 (G.Lite) Annex A, B and C; ANSI T1.413
issue 2; ITU G.994.1 (G.handshake) for ADSL, G.992.3 for ADSL2,
and G.992.5 for ADSL2+
Line Code: DMT
Maximum reach exceeding 20 kft (6.1 km)
Worst case per port power < 900 mW
Networking
8 VCs per xDSL port
128 MAC address per xDSL port
64 X 128 MAC address
2K multicast MAC address
152 VLAN (any value in 4096) supports packet size (64 to 1542)
Rate limiting by MAC and IP address
Broadcast Flooding/ or Dropping
ATM End to End F5 OAM

Future Software Upgrades

BRAS support
802.1x, DHCP server & Relay, PPPoE, MPLS, VLAN-based VPN
L3 router feature, L2TP

Purchase orders accepted on General DataComm equipment
Contract Buying and Volume Discounts available !!
Please contact us 301-924-7400