GDC INNOVX Frame Relay Access Products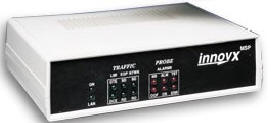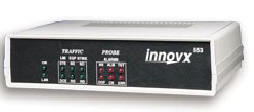 Call us for Pre-sales and discount pricing

301-924-7400 Support
GDC INNOVX Frame Relay Access Products:
058A169-001 058A169-002 058A170-001
058U650-C01A 058U651-C01A

Highlights

• Frame relay SLA monitoring plus probe functions with built-in Web-based performance reports
• A powerful yet affordable window to the power of frame relay networks
• Carrier class, rate flexible, frame relay access at 56/64 Kbps software upgradeable to T1 speeds
• Comprehensive tools for verifying SLAs, assessing quality of service, and managing bandwidth usage
• Internet-ready management via an embedded Web server agent
• Optional Frame Manager enterprise network management software for NT-based analysis and reporting
• Automatically responds to LMI polls ensuring frame relay service availability during router or LAN outages
Overview

GDC's innovx™ is a family of next generation access products designed specifically for packet networks. Current solutions include innovative, highly intelligent, software based frame relay access devices, with built-in CSU/DSUs, that perform frame relay monitoring and extensive frame relay network probing functions. The innovx platform has the computing power of a PC, for lower latency than most other products in its class, and makes full use of the power of the Internet through a built in HTTP web server supporting Java. Innovx' core architecture is ready for the swing away from circuit-based to packet-based networking — from frame relay support now to ATM transport in the future.

Open A Window to the Network

An innovx located between a LAN segment and the frame relay network not only provides access to frame relay at 56/64 Kbps, FT1, or T1 rates but also opens a window to the network for complete awareness of
frame relay performance, line impairment conditions, and alarms.

Innovx provides network managers with all the tools necessary to monitor and troubleshoot frame relay transport systems through Telnet and SNMP — or your Internet browser. In addition, the family delivers valuable tools for long-range proactive and predictive management of network resources — such as network baselining and performance trend analysis. For enterprise users, the innovx family quickly pays for itself by allowing users to fully utilize bandwidth, which ultimately controls recurring frame relay costs. For service providers in today's highly competitive frame relay market, innovxprovides a means for introducing new value added services.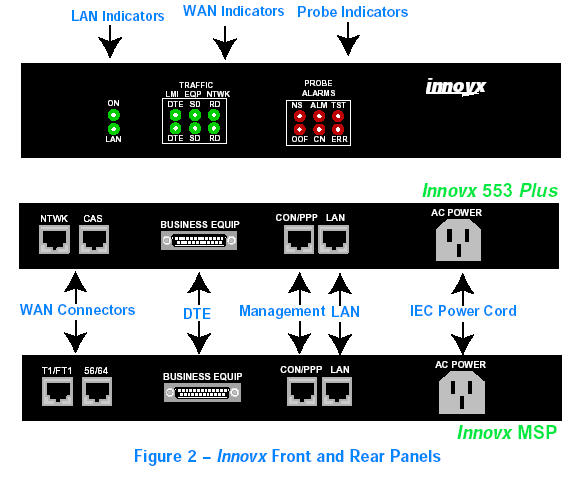 058A169-001
058A169-002
058A170-001
058U650-C01A
058U651-C01A
For more information go to:

GDC INNOVX Frame Relay Access PDF

Purchase orders accepted on General DataComm equipment
Contract Buying and Volume Discounts available !!
Please contact us 301-924-7400