GDC INNOVX FastSwitch 24
S-200A200-001: FastSwitch 24-Port Device
Ethernet and Gigabit Ethernet Connectivity





Call us for Pre-sales and discount pricing

301-924-7400 Support
GDC INNOVX FastSwitch 24
FastSwitch 24-Port Device:

S-200A200-001: FastSwitch 24-Port Device

Uplink Ethernet Modules:

S-200P200-001: FastSwitch 24 GBIC 1-port device
S-200P200-002: FastSwitch 24 100 Base-FX 1-port device
S-200P200-003: FastSwitch 24 1000 Base-T 1-port device
S-200P200-004: FastSwitch 24 1000 Base-SX 1-port device
S-200P200-005: FastSwitch 24 1000 Base-LX 1-port device

Introduction

The Innovx FastSwitch 24 provides fast Ethernet and Gigabit Ethernet connectivity combined with the Layer 2 and Layer 2+ features required in Enterprise LAN-based applications. The FastSwitch 24 is a low-cost, non-blocking, switch integrated with 24 ports of 10/100 Mbps and two ports of 10/100/1000 Mbps. The non-blocking architecture enables optimal wire-speed network processing. Each port can be configured for auto-sensing or manually selected to run at the desired speed. Also configurable are full/half-duplex mode control and enable/disable of flow control. The FastSwitch 24 supports 6K MAC addresses and 4K VLANS. Additional plug-in modules are available that provide value-added fiber/copper uplinks.


Switch Features

? Up to twenty four auto-MDIX 10/100 ports Base-TX, configurable in 8-port increments
? Two independently configurable hot swappable uplink Ethernet ports
? Choice of 100 Base FX, 1000 Base-T, 1000 Base-SX, 1000 Base-LX and GBIC/SFP uplink Ethernet port
? 8.8 Gbps switching fabric
? Up to 6K MAC addresses
? Up to 4K VLANS Operation and Management Features
? User Interface (CLI, Telnet, WBI)
? Stackable BOOTP, DHCP software and configuration downloads using TFTP, XMODEM
? Dedicated serial management port
? Inband management
? POST and online diagnostics
? Local language support
? Database backup and restoral
? RADIUS protocol for user authentication
? RMON groups 1, 2, 3, and 9 (Statistics, History, Alarm and Events)
? SNMP


Layer 2 Features

? MAC learning, forwarding and aging
? MAC filtering
? STP, fast STP and multiple STP
? Port-based network access control (802.1x)
? Port- and protocol-based VLAN,VLAN tagging, GVRP
? independent and shared VLAN
? Priority Queuing
? IGMP snooping
? Flow Control
? Uni-directional and Bidirectional Port mirroring
? Broadcast storm recovery
? Head of Line Blocking Prevention

Layer 2+ and Additional Features

? Bandwidth allocation on a per port basis
? Head of line blocking prevention
? Port security and access control

Fast Switch 24 Applications

Figure 1 shows FastSwitch 24 devices at the Corporate Office providing up to 24 auto-sensing 10/100 copper ports for flexible desktop and workgroup connectivity. One-gigabit per second uplink provides fast ethernet connectivity to the supporting server. In addition, a second gigabit link extends the ethernet switch density to 48 ports. Forwarding rates up to 9.6 million packets per second, nonblocking architecture and resiliency features such as Fast Spanning Tree Protocol and link aggregation are supported on all ports. These robust features help remove server bottlenecks, extend the network size, and speed up access time for all users. FastSwitch 24 is easily deployed throughout the enterprise network with hassle-free setup, exceptional reliability and no configuration required.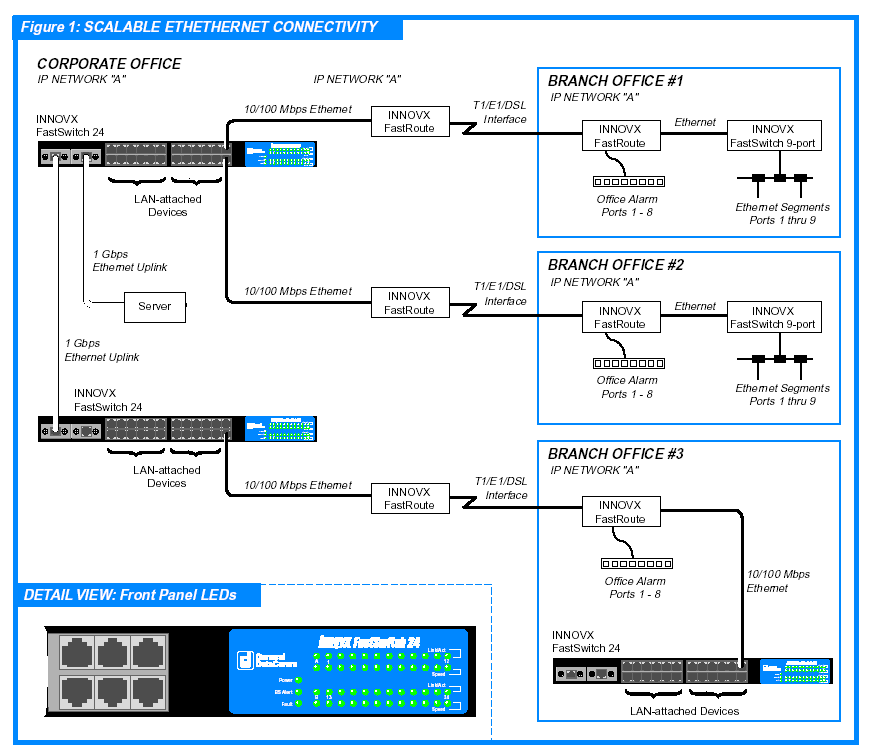 When the Innovx FastSwitch 24 is deployed with companion Innovx access products (Figure 1), the corporate enterprise network can be extended to cost-effectively reach branch offices.

? The Innovx FastRoute device establishes a secure and reliable LAN extension between floors or between
buildings, eliminating expensive routers.

? The Innovx FastSwitch 9- or 18-Port devices provide scalable ethernet connectivity to the LAN-attached
equipment at remote sites.
Specifications

Innovx FastSwitch 24 Dimensions
Width: 444 mm (17.47 in.)
Height: 44 mm (1.73 in.)
Depth: 195 mm (7.68 in.)
Weight: 2.6 kg (6.0 lbs)
Environmental Specifications
Operating Temperature: 0 to 40 degrees C (32 to 104 degrees F)
Storage Temperature: -40 to 70 degrees C (-40 to 158 degrees F
Humidity: 10% - 90% non-condensing
(OHFWULFDO#6SHFLILFDWLRQV
Electrical Characteristics:
Power Requirements: 100 to 240 VAC, 50 to 60 Hz.
Power Supply: Internal auto-ranging transformer;
Supports external redundant power supply
Power Consumption: 35 Watts, maximum
Heat Dissipation: 119.5 BTU per hour

FCC Class A; CE mark; UL

IEEE 802.1D Bridging, Spanning Tree, GARP, GMRP
IEEE 802.1Q VLAN Tagging
IEEE 802.3ac Frame Extension for VLAN Tagging
IEEE 802.1p Priority Queuing
IEEE 802.3x Flow Control
IEEE 802.3ad Link Aggregation
IEEE 802.1s Multiple Spanning Trees
IEEE 802.1w Rapid Spanning Tree
IEEE 802.1x Port-based Network Access Control

RFC 768,783,791,792,793, 826, 854, 855, 894, 922, 951, 1155,
1157, 1212, 1867, 1901, 1905, 1906, 1907, 1908, 1945, 1994, 2068,
2069, 2104, 2131, 2138, 2139, 2184, 2295, 2236, 2570, 2571, 2572,
2573, 2574, 2575, 2576, 2578, 2579, 2580, 2856, 2869
RFC 1213 - MIB II
RFC 1493 - Definitions of Managed Objects for Bridges
RFC 1573 - Evolution of the Interfaces Group of MIB-II
RFC 1643 - Ethernet MIB
RFC 1757 - RMON MIB
RFC 2233 - The Interfaces Group MIB using SMIv2
RFC 2674 - Definitions of Managed Objects for Bridges with Traffic
Classes, Multicast Filtering, Virtual LAN Extensions (partial support)
RFC 2787 - VRRP MIB
RFC 1757 RMON MIB
Innovx Private MIB

Physical Interfaces
Up to 24 Auto MDIX 10/100/1000 Base-TX.
Up to two independently hot-swappable uplink Ethernet ports
Choice of several uplink Ethernet modules (see below)
Capacity
8.8 Gbps switch fabric
Up to 6000 MAC addresses
Up to 4000 VLANS
Management Options
CLI, WEB and SNMP
Dedicated serial and 10/100Base-T management port
In-Band Management
RMON Groups 1,2,3 and 9 (Statistics, History, Alarm and Events)
On-line diagnostics
Firmware Upgrade using TFTP, X modem
Database backup and restoration
Local language support
Front Panel LEDs
System Power, Self test, Alarm, Link status, Activity

FastSwitch 24
Basic FastSwitch 24-Port Device
P/N S-200A200-001

Uplink Ethernet Modules

S-200P200-001:
FastSwitch 24 GBIC 1-port device

S-200P200-002:
FastSwitch 24 100 Base-FX 1-port device

S-200P200-003:
FastSwitch 24 1000 Base-T 1-port device

S-200P200-004:
FastSwitch 24 1000 Base-SX 1-port device

S-200P200-005:
FastSwitch 24 1000 Base-LX 1-port device

Purchase orders accepted on General DataComm equipment
Contract Buying and Volume Discounts available !!
Please contact us 301-924-7400