GDC EP-6 Cabinet

Call us for Pre-sales and discount pricing

301-924-7400 Support
GDC EP-6 Cabinet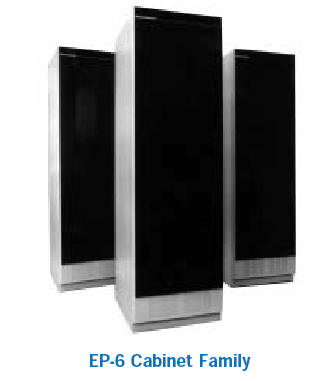 EP-6 The EP-6 cabinet is a highly versatile systems cabinet that houses GDC APEX® ATM, NexEra™ Packet Voice Gateway, Multimedia, and Network Access products, or any EIA telecommunications equipment in a variety of configurations. EP-6 cabinets organize and protect your equipment and cabling, creating a clean and orderly installation in place of computer room clutter. The overall dimensions of the EP-6 are 584 mm (23 in.) wide by 1,930 mm (76 in.) high by 610 mm (24 in.) deep, with 1,778 mm (70 in.) of vertical mounting space for accommodating EIA-standard 483 mm (19 in.) panel widths and 40 EIA-standard vertical panel heights. The EP-6 weighs 104.42 kg (230 lb.) and supports 136.2 kg (300 lb.) on the front mounting
rails. Added support can be installed for heavier assemblies such as the GDC APEX® or NexEra™ chassis. Each cabinet can be joined on either side with other cabinets to construct multi-cabinet equipment bays in large installations. Cables, power distribution and cooling systems, as well as a wide variety of optional accessories — including fans, shelves, and cable trays — are also available.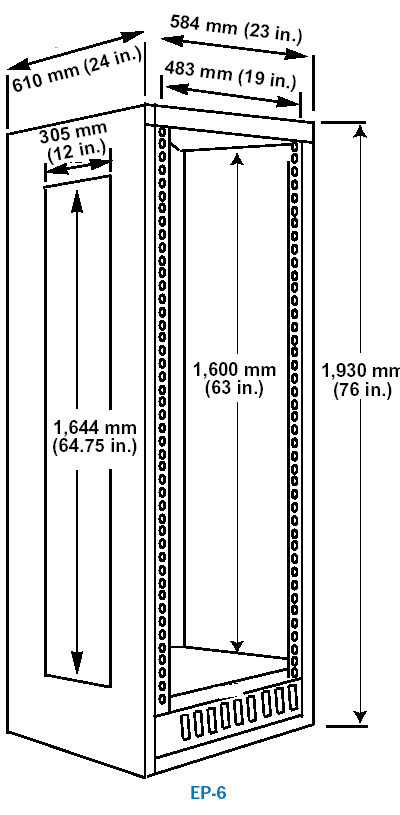 The EP-6 comes in four models. The EP-6B is a basic model with no accessories. The EP-6D is a 117 VAC version with a 300 CFM blower, three fans, a 10-position plug mold and a 20-amp circuit breaker. The EP-6E operates at 230 VAC and includes a 300 CFM blower, three fans, a 10-position plug mold (with IEC 320 connectors), and a 10-amp circuit breaker. A –48 VDC version, the EP-6/DC, includes a 300 CFM blower, three fans, and two power distribution panels, each with a 35-amp circuit breaker. All models have front mounting rails tapped for 10/32 machine screws and adjustable rear untapped mounting rails on EIA RS-310 spacing.

Purchase orders accepted on General DataComm equipment
Contract Buying and Volume Discounts available !!
Please contact us 301-924-7400