GDC DataComm V.F 28.8 / 33.6
High Speed V.34 Data Modem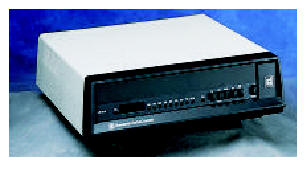 Call us for Pre-sales and discount pricing

301-924-7400 Support
GDC DataComm V.F 28.8 / 33.6 High Speed V.34 Data Modem
High Speed V.34 Data Modem Highlights:

• Reduces connect time and long distance phone charges
• Ideal for central site for point-of-sales applications
• Transmits synchronous data at up to 33.6 Kbps over standard 2-wire telephone circuits
• Achieves effective throughput of up to 128 Kbps for asynchronous applications
• Flash memory

Technically Advanced

The DataComm V.F 28.8 / 33.6 is an excellent choice for central office locations requiring high speed, dial-up access to off-premise LANs, particularly in Windows and Graphical User Interface (GUI) environments.
The V.F 28.8 / 33.6 modems transmit synchronous and asynchronous data at speeds up to 33.6 Kbps, including dial-up and leased line connectivity with automatic dial backup, as well as dial only modems. With advanced compression techniques, the DataComm V.F 28.8 / 33.6 can achieve an effective throughput of up to 64 Kbps in synchronous and 128 Kbps in asynchronous applications. Using V.34 modulation along with powerful V.42/V.42 bis error correction and compression features ensures superior error-free performance.

Effortless Upgrades
The DataComm V.F 28.8 / 33.6 incorporates a powerful technological platform that is completely defined by Flash Memory. As your future needs and technological developments dictate, software upgrades to add new features and capabilities may be done in place.

Superior Performance
The DataComm V.F 28.8 / 33.6 provides V.34 and supports slower standard speeds through General DataComm's powerful Digital Signal Processor (DSP) based platform, including custom VLSI. Using AutoRate Renegotiation, the V.F Series dynamically adjusts operating rates to compensate for switched network line impairments. The V.F Series provides superior performance, even over public network circuits that may vary in quality. This means the public network can be utilized to support high speed applications like remote LAN access, which in the past would have required dedicated links (and therefore may not have been economically feasible).

Flexible Packaging Design

The DataComm V.F 28.8 / 33.6 follows GDC's extremely flexible Data Commonality packaging design. It is available in high density rackmount units — up to 16 can be installed in a 19 inch or 23 inch shelf — or in an attractive, desktop enclosure.
The DataComm V.F 28.8 / 33.6 also supports network monitoring through a full LED array, 4-character Electronic Display Window (EDW), and front-panel pushbutton controls for modem option selection and other menu choices. All models offer V.35 and EIA/TIA-530A interfaces, eliminating the need for external interface converters in migrating to high speed data applications.

Powerful Diagnostics

A comprehensive array of diagnostic tests provides accurate detection of system faults and allows service to be restored quickly. these include ANALOOP® (Analog Loopback/V.54 Loop3), DATALOOP® (Digital Loopback V.54 Loop2), Remote Digital Loopback (V.54 Remote Loop2), and Self-Test. All tests can be initiated with front panel switches and monitored through easy-to-read LED displays. ANALOOP and RDL may also be initiated through the terminal equipment (DTE) interface under the control of communications software.

Security

GDC's Steadfast Security® protects critical financial, governmental, or company sensitive applications via a password embedded within the handshake sequence and mandatory callback feature.

Setting The Standard
The DataComm V.F 28.8 / 33.6 sets the standard for quality design that meets current and future communications requirements. All V.F Series Modems support V.34, V.32 bis, V.32, V.22 bis, V.22, V.21, Bell 212A and Bell 103, providing for maximum connectivity and operational flexibility.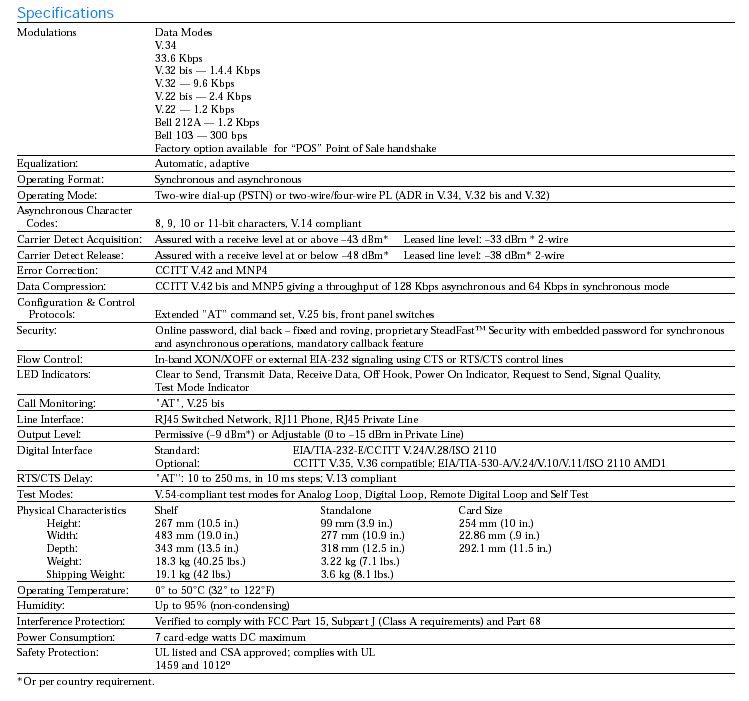 Purchase orders accepted on General DataComm equipment
Contract Buying and Volume Discounts available !!
Please contact us 301-924-7400