GDC DataComm 24 / 48 VDC

Call us for Pre-sales and discount pricing

301-924-7400 Support
GDC DataComm 24 / 48 VDC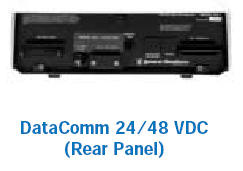 DataComm 24/48 VDC The DataComm 24/48 VDC enclosures are designed to operate in cellular systems or telephone company central offices using the available –24 VDC or –48 VDC power. They conform to standard EIA/TIA-232-E, ITU-T V.24, V.35 and EIA-530 interfaces. Overvoltage and undercurrent protection is standard, and inputs are fused with a 1.5 amp fuse. Each enclosure houses one standard DataComm product.
The DE-1/DC 24/48 accommodates most DataComm private line or switched network products, while the DE-17/DC 24/48 is designed for use with most of the DataComm DSU product line. Both single and dual height
products are accommodated.


Purchase orders accepted on General DataComm equipment
Contract Buying and Volume Discounts available !!
Please contact us 301-924-7400