GDC DataComm DS Series

Call us for Pre-sales and discount pricing

301-924-7400 Support
GDC DataComm DS Series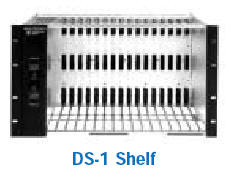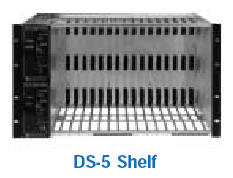 DataComm DS Series The DataComm DS Series shelves accept up to 16 rackmount DataComm access devices at a range of data rates for cost-effective, flexible analog or digital access. They provide 483 mm
(19 in.) of horizontal and 267 mm (10.5 in.) of vertical mounting space in a 343 mm (13.5 in.) deep space, enabling easy mounting in any standard 483 mm (19-in.) cabinet. Up to six DS Series shelves can be housed in an EP-6 cabinet for high density applications.

A flexible range of AC and DC models include the DS-1 (117 VAC); DS-100 (100VAC); DS-220 (220 VAC); DS-240 (240VAC); and DS-5/DS-6 (–48 VDC, redundant or non-redundant). For improved reliability, the AC powered shelves feature a power supply compartment with four transformers, each distributing power to four adjacent shelf slots. Powering in the DC versions is via one or two modules (the DPS-7A for the DS-5 and DPS-9 for the DS-6). Since one DPS-7A power supply is capable of supporting a completely loaded shelf, two modules allow for the added insurance of redundant powering in DC voltage environments. The DS Series has 16 DB-25 female EIA/TIA-232-E business machine connectors and 16 DB-25 male telephone/line connectors. Each shelf slot also contains a 6-position switched network/private line terminal strip and an 8-
position keyed modular jack for line connections. All connectors are easily accessible from the rear, for easy installation and maintenance.


Purchase orders accepted on General DataComm equipment
Contract Buying and Volume Discounts available !!
Please contact us 301-924-7400