GDC CELP Voice Channel Modules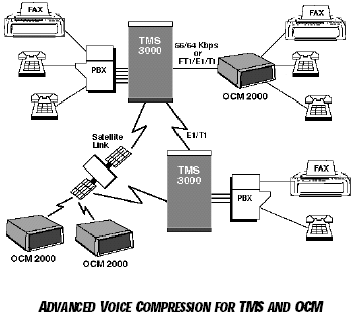 Call us for Pre-sales and discount pricing

301-924-7400 Support
GDC CELP Voice Channel Modules
Installed on a TMS or OCM, CELP modules provide compression ratios of up to 13 to 1.
OVERVIEW

OVERVIEW The CELP (Codebook Excited Linear Predictive coding) voice channel modules bring superior quality voice plus an up to 13:1 compression ratio to General DataComm's TMSTM (Transport Management System) and OCM (Office Communications Manager) products.

Modules can be configured to support compressed voice at channel operating rates of 9.6, 6.4, or 4.8 Kbps. Users gain the best in
voice quality using high speed digital services while saving on monthly line costs. In addition, rates can be dynamically downspeeded to accommodate link restoral rerouting with only a slight adjustment in voice quality.

As an option, the CELP modules can recognize and transmit facsimile signals uncompressed to remote CELP modules. This automatic bypass feature is transparent to the user, yielding support for full rate Group III fax at 9.6 Kbps. Module versions are available with or without fax bypass for the TMS 3000 and the OCM 2000/1000 Office Communications Managers. Flexible signaling choices include 2-wire/4-wire E&M (Type 1, Type 2, Type 5, and SSDC5A), 2-wire FXS, and 2-wire FXO. DTMF
(Dual Tone Multi-Frequency) signaling is supported by each CELP module. Since all signaling systems are carried in-band and do not require extra bandwidth, "hidden" bandwidth costs are eliminated.

For More Information:

Purchase orders accepted on General DataComm equipment
Contract Buying and Volume Discounts available !!
Please contact us 301-924-7400