GarrettCom 10Mb TF14 and TB14
Media Converters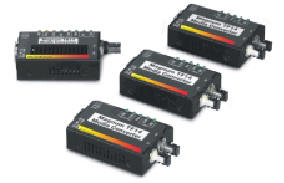 Call us for Pre-sales and discount pricing on GarrettCom 10Mb TF14 and TB14 Media Converters
301-924-7400 Support
GarrettCom 10Mb TF14 and TB14 Media Converters
Features
• Family of fiber models provides media (multi-mode and single-mode; transparent half-duplex and full-duplex) flexibility in installation and operations.
• Install easily - simply attach cable segments to appropriate connectors on converter. An up-link switch on the RJ-45 port is included
• TB14 BNC model provides an internal BNC termination switch, and operates with collision detection and indication
• Provide diagnostic and network status information at a glance through a full set of LEDs
• Rack-mount tray option (MC14-TRAY) available

Description
Small physical size, rugged packaging, ease-of-use features, energy efficiency, and low cost are the primary characteristics of the Magnum 10Mb TF14-series and TB14 Media Converters.

Models are available for RJ-45 to fiber (all types) or RJ-45 to BNC media combinations, offering a graceful way to convert and transmit data between twisted pair and fiber or thin coaxial network cables for media flexibility in new or expanded 10Mb Ethernet networks. They cost significantly less than full repeaters and can be used whenever media distance limitations are not restrictive. The TF14 fiber models provide transparent half-and full-duplex operating mode.

The TB14 BNC model provides standard collision detection and indication. All units are compatible with Ethernet V1.0 / 2.0 specifications and comply with IEEE 802.3 standards. Magnum TF14 and TB14 Media Converters are designed for quick and easy installation even in very tight spaces. An up-link switch on the RJ-45 port provides manual crossover selection. The compact units, which are about the same size as traditional mini-transceivers, can be mounted securely on a closet wall or the side of cabinet, or by using the metal mounting clips included.

A rack-mount tray option is available, for up to 16 units. Magnum TF14 and TB14 Media converters are designed to provide low-temperature operation over an extended period to make them some of the most reliable in the industry. Their high-strength fabricated metal packaging shields against Radio Frequency Interference (RFI) and Electromagnetic Interference (EMI).

Like all Magnum Ethernet connectivity products, they are designed and manufactured in the USA and are backed by a three year warranty.
Specifications
PERFORMANCE: Data Rate: 10Mbps TF14: Operates transparently in half- or full-duplex mode. NETWORK STANDARDS: Ethernet: IEEE 802.3u, 100BASE-TX, FX; IEEE 802.3, 10BASE-T 10BASE-T, 10BASE-FL, 10BASE2

OPERATING ENVIRONMENT: Ambient Temperature: TF14: 32° to 120°F (0° to 50°C) TB14: 32° to 104°F (0° to 40°C) Storage: -20°C to 60°C Ambient Relative Humidity: 10% - 95% (non-condensing)

PACKAGING: Enclosure: Rugged sheet metal (steel) Dimensions of units: 2.13" x 3.0" x 0.8" (5.3 cm D x 7.6 cm W x 2.0 cm H) Weight: Media Converter Units: 4.6 oz (130g) Power Supply, TF14: 5.8 oz (165g) Power Supply, TB14: 10 oz (285g) Cooling Method: Convection Rack-mount option: Model MC14-TRAY. Depth: 6.0", Width 17", Height: 2.25"(15 cm D x 43 cm W x 5.7 cm H)

CONNECTORS: RJ-45 Port: Shielded 8-Pin female, with up-link switch Fiber Ports: 10BASE-FL ST-type, multi-mode or single-mode. BNC Port: Standard BNC connector, RG-58 ThinNet, with manual internal termination switch

POWER SUPPLY (EXTERNAL): Power Input Voltage: 95-125 vac at 60 Hz for "-d" models, 200-250 vac at 50 Hz for "-i" models that have IEC power cable connector in the external power unit. Six foot DC power cable. (Note: an optional -48VDC or 24VDC external power unit is available) TF14: 9volts DC, power consumption: 2 watts typical, 3 watts max. TB14: 12volts DC, power consumption: 4 watts typical, 6 watts max.

LED INDICATORS: PWR: Steady on when power applied LINK: Steady on when attached TP or fiber cable segment is operational. (For fiber Link-Pass-through models, either both LINK LEDs are lit or neither is lit). RX: Indicates activity, port is receiving data POL: (TB14 only) Indicates TP receive wire-pair signal inversion (polarity). COL: (TB14 only) Indicates unit detects simultaneous data transmit and receive JAB: (TB14 only) indicates jabber (illegal packet length fault) condition. When lit, the port is partitioned.
- Purchase orders accepted on GarrettCom, Inc. equipment
- Contract Buying and Volume Discounts available !!
- Please contact us 301-924-7400