FibroLAN 10BaseT to 10BaseFL
CTF series

FibroLAN 10BaseT to 10BaseFL - CTF series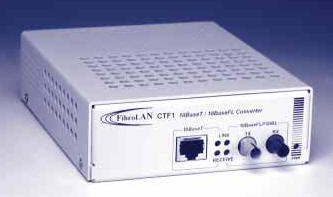 The The CTF Media Converters extend the span and life of 10Mbps Networks. By converting 10Base-T traffic to 10Base-FL, the CTF1 extends Ethernet networks up to 3,500m (in FDX mode) over multi-mode- fiber and up to 40 km over single-mode-fiber. The device transparently supports HDX and FDX modes of operation.
Fiber-optic connectivity may be required in networks due to several reasons, distance being the most popular, as the copper connectivity is limited by the standard to a network span of 205 m only. Using external media converters in conjunction
with UTP hubs or switches has proven to be the most flexible and cost effective method, cheaper by far compared to using switches with integrated fiber-optic ports.

This compact size yet high quality device implements innovative Media Conversion technologies providing an unconditioned network extension over m/m fiber of up to 3500 m (11500 ft), in any network architecture (even when such includes repeaters). The device is fully transparent and automatically adapts to conversion of Half and Full-Duplex transmissions.

Along with its extensive front-panel diagnostics it ensures trouble free network design, installation and maintenance.
? Top Performance Maximal distances (2000 m F/O, 3500 m in FDX) in any network architecture
? Protection of Investment Extends the span and life of 10 Mbps networks
? Space Saving Compact desk-top or shelf-mountable enclosure
? Easy Network Design No restrictions
? Reliability Internal power-supply, high quality optical components
? Maintainability Extensive front-panel diagnostics

ORDERING INFORMATION

Call 1-301-924-7400 ext. 17

| | | |
| --- | --- | --- |
| CTF1 | B011 | Single Channel 10Base-T to 10Base-FL converter, ST connectors, (Or SC connector, to be specified in the order) multi-mode |
| CTF1/SM | B071 | Single Channel 10Base-T to 10Base-FL converter, ST connectors,single-mode 16km |