FibroLAN ATARA1000
1000Mbps Any to Any Redundant Link Converters

FibroLAN ATARA1000 1000Mbps Any to Any Redundant Link Converters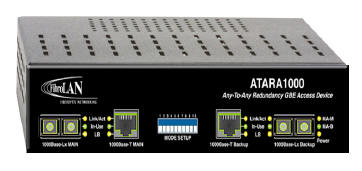 The ATARA1000 is an MA managed "Any to Any" 1000Base-T to 1000Base-LX Redundant Link Access Device. It is designed to meet the needs of connecting critical/large users to the network, ensuring fail-free operation by protecting both the fiber path and the TP user interface.
The ATARA1000 automatically selects the active port on each F/O and TP sides (with priority to "MAIN" ports) and interconnects them. It has two TP and two F/O connectors. In this way, end-to-end path and device redundancy is achieved disregarding the type of the remote device, catering to various network resilience scenario.
Upon failure of a MAIN port, the module switches traffic very fast to the Backup port and alerts the network manager. When the Main link is restored, the traffic automatically switches back to it, providing operational consistency and easy tracing of the active path. The switchback occurs immediately after link restoration or following a tunable delay (via the management system) to avoid network instability during the repair process. Inactive Ports (normally Backup) are continuously monitored for link integrity, providing the network manager with valuable information of his system's readiness.
Using front panel DIP switch (or via management), the Redundant mode may be disabled. In such case the device functions exactly like a dual channel converter, with each 2 adjacent ports forming a channel. The device is offered in a large variety of optical interfaces, dual SC, S/M, 1330/1550nm, allowing the extension of the network up to 80km. FibroLAN's unique Link Segmentation Test (LST) allows easy link segmentation to facilitate Network diagnostics. A Loop-Back function on each port simplifies troubleshooting of Link problems. Its RJ-45 ports are AutoCross compliant, making installation trouble free.
The Subscriber Link Emulation (SLE)- when link partner is an MA enabled device – allows real time notification of the remote user failure while maintaining the fiber link active. The rate limiting mechanism provides the carrier with a platform to ensure SLAs along with high over-subscription rates. Like other MA enabled devices, the ATARA1000 can be remotely managed via the MetroStar. The embedded MA chip allows full management eliminating the need of costly SNMP processors and IP addresses. ATARA1000 SNMP managed devices are also available.
ORDERING INFORMATION

Call 1-301-924-7400 ext. 17
| | | |
| --- | --- | --- |
| ATARA1000-LX1 | 3950 | 1000T to 1000LX Redundant Link Access Device, s/m 10km 1310nm, dual SC, MA™ managed |
| ATARA1000-LX2 | 3951 | 1000T to 1000LX Redundant Link Access Device, s/m 20km 1310nm, dual SC, MA™ managed |
| ATARA1000-LX3 | 3952 | 1000T to 1000LX Redundant Link Access Device, s/m 40km 1550nm, DFB, dual SC, MA™ managed |
| ATARA1000-LX4 | 3953 | 1000T to 1000LX Redundant Link Access Device, s/m 80km 1550nm, DFB, dual SC, MA™ managed |
| ATARA1000-SMLF13 | 3958 | 1000T to 1000LX Redundant Link Access Device, s/m 40km Single Fiber Strand 1310nmTx/ 1550nmRx, dual SC, MA™ managed |
| ATARA1000M-LX1 | 3954 | 1000T to 1000LX Redundant Link Access Device, s/m 10km 1310nm, dual SC, SNMP managed |
| ATARA1000M-LX2 | 3955 | 1000T to 1000LX Redundant Link Access Device, s/m 20km 1310nm, dual SC, SNMP managed |
| ATARA1000M-LX3 | 3956 | 1000T to 1000LX Redundant Link Access Device, s/m 40km 1550nm, DFB, dual SC, SNMP managed |
| ATARA1000M-LX4 | 3957 | 1000T to 1000LX Redundant Link Access Device, s/m 80km 1550nm, DFB, dual SC, SNMP managed |