Coastcom RazorEdge 100 RE100
Multiservice Edge Multiplexer



Call 301-924-7400 ext. 17 for Information and Pricing

Coastcom's RazorEdge 100 RE100 is a next-generation SONET/SDH and Ethernet edge platform that allows carriers to cost-effectively and quickly deploy TDM and packet services over an existing infrastructure in a variety of configurations. As the first product in its class to economically push SONET/SDH to the edge while offering the redundancy and Ethernet features demanded by carriers, the RE100 raises the bar for multiservice edge platforms.

Built in a compact, two rack-unit high model, the RazorEdge 100 aggregates a combination of DS1/E1, DS3/E3, Fast Ethernet and Gigabit Ethernet services onto dual OC-3/12/48 or STM-1/4/16 trunk interfaces. The RE100 delivers carrier-class reliability with UPSR/SNCP ring support in addition to optional linear 1+1 APS/MSP facility protections as well as 1:1 equipment protection on the optical trunk interfaces. Hot-swappable SFP (Small Form-Factor Pluggable) transceivers also provide optical media and interface rate flexibility.
Coastcom's RazorEdge 100 platform integrates layer 2 Ethernet switching and statistical multiplexing functions to enable delivery of point-to-point and multipoint Ethernet services. Advanced features such as 802.1Q/p VLAN prioritization and intelligent flow control mechanisms support differentiated classes of service and carrier-grade SLAs. In addition, the RE100 platform implements standards-based GFP, LCAS, and VCAT (both Low-order and Highorder), to maximize Ethernet over SONET/SDH (EoS) bandwidth efficiency and lowers the cost of service delivery.
IDEAL FOR:

The RazorEdge 100 is ideally suited for deployments in metro access rings or as an end-node in customer locations, as well as outside plant cabinets. In these applications, the RE100 complements the R428, R410, R344 and R409. As with Coastcom's R Series family of products, the
R100 platform is truly a global solution, supporting both ANSI/SONET and ETSI/SDH multiservice edge environments.
FEATURES

Multiplexes DS1/E1, DS3/E3, 10/100 and GigE ports into flexible OC-3/12/48 or STM-1/4/16 network uplinks
Delivery of Ethernet/IP and TDM services from an affordable, 2RU-high shelf
Carrier-class design supports optional 1+1 network protection and 1:1 equipment protection on the high-speed optical ports
Integrated L2 Ethernet switching and EoS transport using GFP, LCAS, VCAT (HO & LO)
SFP transceivers provide flexible optical connectivity for high-speed optical and GigE interfaces
Supports linear or ring-based deployments in Metro Access (Central Office), CLE, MTU or OSP environments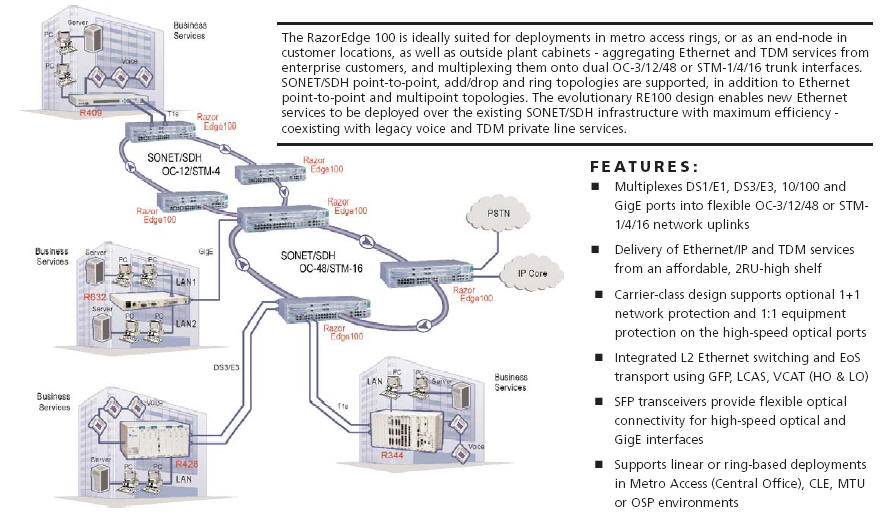 Call 301-924-7400 ext. 17 for Information and Pricing

Coastcom Products