Coastcom R930 Fiber Optic Multiplexer



Call 301-924-7400 ext. 17 for Information and Pricing

Coastcom's R930 Fiber Optic Mux provides an ideal solution for building fiber-based T1/E1 networks. The R930 can multiplex up to 16 T1/E1 Ethernet and serial data signals for transmission over single or dual optical fiber, resulting in a longer reach without costly repeaters and superior performance in comparison to copper media transport. The R930 supports an optional 10/100 BaseT port and optional quad serial ports. Protection levels can be designated as either single pair or dual pair fiber with either a single power supply or dual supplies.

Supports local control and diagnostics using 2-line by 16-character LCD display (optional) and keypad or DB9S console port. Supports local and remote monitoring and diagnostics through the use of front panel switches and LED indicators. Contacts for office alarms are available.
Available in a 1U high unit with RJ45 connections used for T1/E1. The 2U high version has BNC connections for T1/E1, and the 3U high unit has V.35 connections.
IDEAL FOR:

Cross campus communications
Interface to IR and microwave transmission systems
Providing 1:1 fiber protection for critical data
Airport data transport
Low-noise, heavy industry data transport
Transporting data when only a single fiber is available -built in CWDM
FEATURES

? Four to 16 E1 links on one (bidirectional) fiber span
? Supports Quad RS232 to 64Kbps async
? Supports V.35, X.21, RS449, RS530
? Supports 10/100M Bridge
? Supports optical 1+1 line protection using 2 or 4 fibers.
? Fixed AC
? Dual/single AC, -24 & -48 models
? Local and remote performance indicators
? Local and remote loopbacks for optical link and each E1 link
? Management through Console port, Ethernet port, and SNMP agents
? Office alarm contacts
? LCD display (optional)
? Multicolor LED indicators
? Available in 1U, 2U, and 3U

Coastcom R930
ORDERING INFORMATION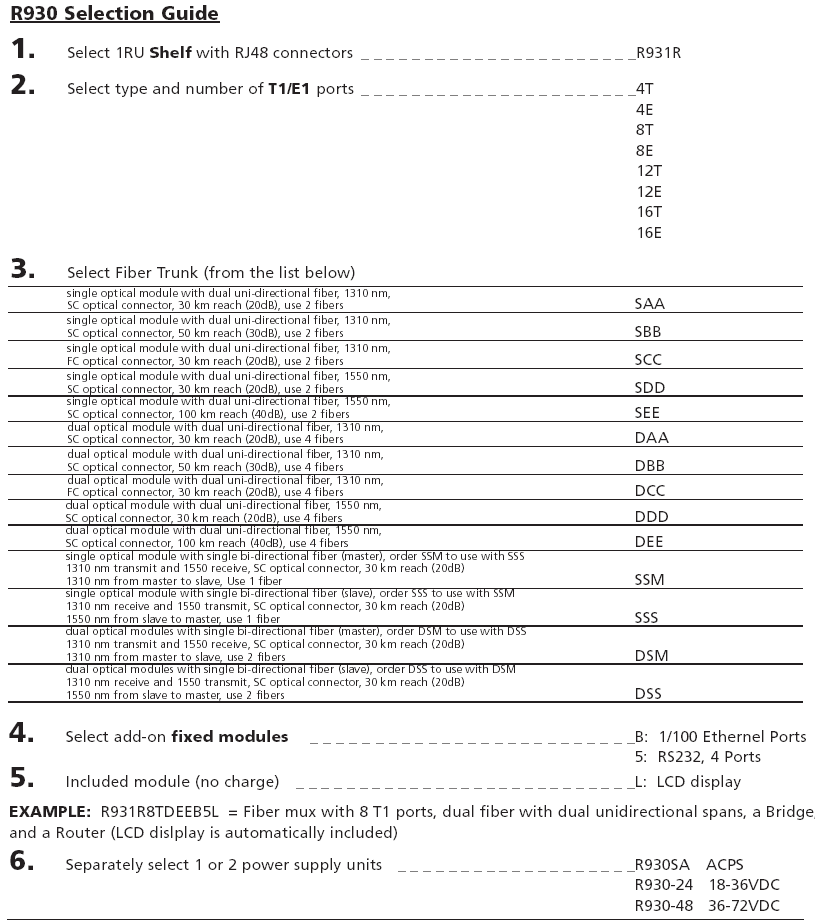 Call 301-924-7400 ext. 17 for Information and Pricing

Coastcom Products