Coastcom R428 28-Slot DACS & Channel Bank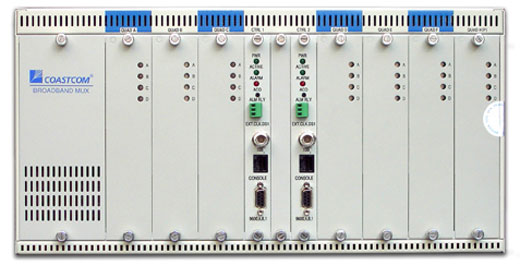 Call 301-924-7400 ext. 17 for Information and Pricing

Coastcom's R428 SERIES 28-slot channel bank provides a compact, single enclosure solution to the problem of interfacing a variety of customer signals to OC3, STM-1, DS3, E3, T1 and E1. Hot-pluggable cards
interface directly to voice, serial, packet, frame relay, and ATM, converging traffic for economical use of costly trunks. Achieving reliability that is classed as 'bullet proof', the R428 includes dual load sharing power supplies, redundant controllers and 1:N protection. In this unique product, the protection is always 1:1 for the OC3, STM-1, E3 and DS3. The protection scheme for E1 and T1 is user selectable from 1:1 to 1:6. Continuous traffic flow is assured!

The R428 is both a DACS and a channel bank. It provides conversion between E1 and T1 with built in A-law to mu-law conversion. User interfaces include V.35, EIA530, RS232, X.21, FXS/O, E&M, MDSL, G.SHDSL, OCUDP, Router, T1/E1-ATM-FR, and terminal server with router.

Management techniques are extremely flexible. Use a VT100 terminal connected to the craft port or control the R428 locally or remotely using the SNMP supported Ethernet port. Supplement that by using Coastcom's user-friendly GUI EMS package, R-View. Customers report that R-View is intuitive and easy to learn. The same EMS controls all R SERIES devices. Choose from in-band or out-of-band management for the control path or use a combination of these techniques.

The R428 supports twenty-eight low speed interfaces (up to 2.048mb/s each) and one redundant high-speed interface, E3, DS3, OC3, or STM-1. Also supported is an OC3/STM-1/DS3 switch module allowing 1:1 electrical redundancy over a single span.
The ability to upload files for back up, system restoration, and system cloning enhances reliability. Backup and restore functions support TFTP.
IDEAL FOR:

? International gateway
? Microwave radio interface
? Single box interface to PSTN/Private networks
? ITS redundant span implementation
? Utility equipment interface
FEATURES

? Redundant controllers and Power supplies
? 1:1 trunk protection
? 1:N T1/E1 protection allows selection of the degree of protection your traffic needs
? CSU/DSU built into T1/E1 cards saves cost and wiring difficulties
? In-band and out-of-band control
? R-View control GUI provides visual control of your entire network
? Built in alarms, loop back, and BERT makes troubleshooting easy
? Four stored maps allows increased/decreased bandwidth to meet immediate needs.
? Automatic provisioning of a replacement module
? E1 to T1 converter bridges US and non-US technology
? Operates as a channel bank, DACS, E1/T1 converter and bandwidth manager
? Multiplexes voice, data, packets in a single box
? NEBS Compliant
ORDERING INFORMATION

R428CH Enclosure, 28 slots
R428CC Controller with SNMP Select 2 for redundancy
R428AC Single AC power supply Select 2 for redundancy
R428DC48 Single -48VDC power supply Select 2 for redundancy
R428OC3 OC3 interface card Select 2 for redundancy
R428STM1 STM1 interface card Select 2 for redundancy
R428DS3 DS3 interface card Select 2 for redundancy
R428E3 E3 interface card Select 2 for redundancy
R428HCOP Protection Card for STM-1/OC3
R428HCEL Protection Card for DS3/E3
R429P1T1 T1 interface card
R429P1E1 E1 interface card
R429V35 V.35 interface card
R429X21 X.21 interface card
R429E530 EIA 530 interface
R429RS232 RS232 interface card
R429MDSL MDSL plug-in card
R429QFXO Quad FXO voice card
R429QFXS Quad FXS voice card
R429RT Router card
R429AFRT T1 ATM or Frame Relay
R429AFRE E1 ATM or Frame Relay
R429OCP OCUDP module
R429QEM2 2-wire Quad E&M voice card
R429QEM4 4-wire Quad E&M voice card
R429TS Terminal Server

Select a total of 28 maximum
R428 Series Front View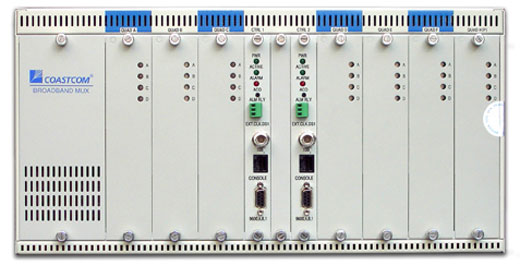 R428 Series Back View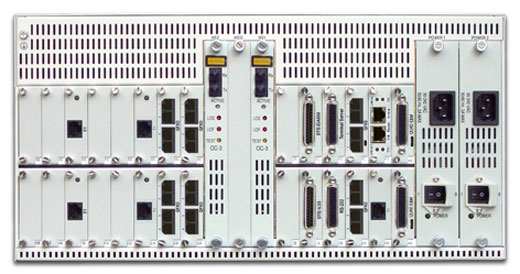 Call 301-924-7400 ext. 17 for Information and Pricing

Coastcom Products