Coastcom R410 Digital Cross Connect
& Wide Band Access E1 T1 Converter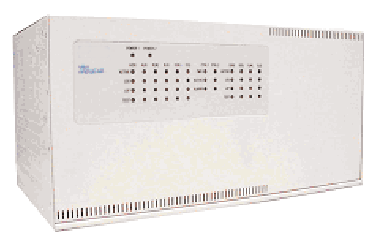 Call 301-924-7400 ext. 17 for Information and Pricing

Coastcom's R410 Digital Cross Connect & Wide Band Access E1 T1 Converter Coastcom's R410 Series is used in OC3 and DS3 networks to provide full broadband access, add-drop functionality, and DACS operations. The R410 can be used as an access device, providing OC3 access for up to three separate DS3 multiplexers. It can also be used as an add-drop mux for dropping E3, E1, DS3 or T1 signals from the OC3 line.

The R410 has full DACS functionality. It can cross-connect channels from any port to any port, at the DSO level. When cross-connecting voice circuits between E3 and DS3 ports (or between E1 and T1 ports), A-law/µ-law and signaling conversions are done automatically. Line Protection and Circuit Protection features are available for high-speed cards.
Redundant power supplies and controllers can be used to ensure maximum reliability when carrying large amounts of traffic.

R410 can be controlled both locally and remotely. Local control is done using a VT100 terminal. Remote control is done using Telnet or SNMP commands. In addition, optional Network Management software is available, which provides a GUI interface for easy configuration and control.

The main chassis is five rack units (5RU) high and can be mounted on standard 19" or 23" racks.
IDEAL FOR:

• STM-1/OC3 access
• ADM in linear microwave systems
• DACS/grooming applications
FEATURES

• Redundant controllers and Power supplies
• 1:1 trunk protection
• 1:N T1/E1 protection allows selection of the degree of protection your traffic needs
• CSU/DSU built into T1/E1 cards saves cost and wiring difficulties
• In-band and out-of-band control
• R-View control GUI provides visual control of your entire network
• Built in alarms, loop back, and BERT makes troubleshooting easy
• Four stored maps allows increased/decreased bandwidth to meet immediate needs.
• Automatic provisioning of a replacement module
• E1 to T1 converter bridges US and non-US technology
• Operates as a channel bank, DACS, E1/T1 converter and bandwidth manager
• Multiplexes voice, data, packets in a single box
• NEBS Compliant
ORDERING INFORMATION

R410CH Chassis Main unit without controller and without power
R410CC Controller Controller/DCS card with SNMP (standard)
R410DC48 -48 VDC PS Single DC supply (-48Vdc)
R410AC AC PS Single AC supply
R410STM1 STM1 STM1 interface module
R410OC3 OC3 OC3 interface module
R410DS3 DS3 DS3 interface module
R410E3 E3 interface E3 interface module
R410HPEL Protection card H/W Protection Card for DS3/E3
R410E121 21E1 interface High Density 21E1 interface
R410T128 28T1 interface High Density 28T1 interface
R410CG Cage Connector Cage
R410E1RJ 21E1 RJ48 21E1 RJ48 connector panel (Include two 60cm SCSI cables)
R410E1BN 21E1 BNC 21E1 BNC connector panel (Include two 60cm SCSI cables)
R410T1RJ 28T1 RJ48 28T1 RJ 48 connector panel (Include two 60cm SCSI cables)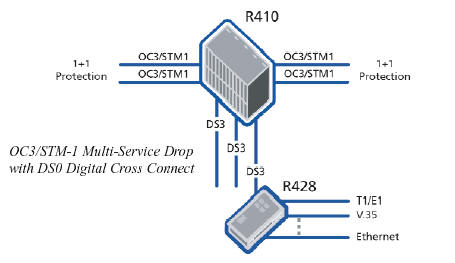 Call 301-924-7400 ext. 17 for Information and Pricing

Coastcom Products