Coastcom R409 9-Slot Integrated Access Device
R409 Series Front View




R409 Series Back View



Call 301-924-7400 ext. 17 for Information and Pricing

coastcom's R409 9-Slot Integrated Access Device The R409 SERIES enclosure with nine user-slots for plug-in
cards mirrors most of the features of the 28-slot R428. Because they share most feature cards, the two systems together provide a growth path. As the need for increased throughput grows, there is no need to replace the entire system, merely switch to the larger enclosure and reuse most resident feature cards.

Mounted in your choice of a 19 or 23-inch rack, the 1RU high R409 operates with AC, -24VDC or -48VDC power. The DC power supplies can be ordered as either single or redundant units. For control, an RS232 connection to a VT100 device is fully supported. An optional SNMP module allows remote access and supports Telnet. The front panel contains a 2-line, 40-character display and necessary controls to operate the R409 without a computer attached. Like the larger R428, inband and out-of-band control path routing is available. Also like the R428, this smaller system can use R-View, Coastcom's easy to use GUI EMS for control and setup. The R409 supports many of the same feature cards as the larger R428. The R409 operates as a DACS, channel bank, and E1/T1 converter. It supports interfaces to FXO, FXS, RS232, V.35, X21, MDSL, OCUDP, E&M, T1 and E1 terminal server. Redundant operation is available between T1/E1 cards.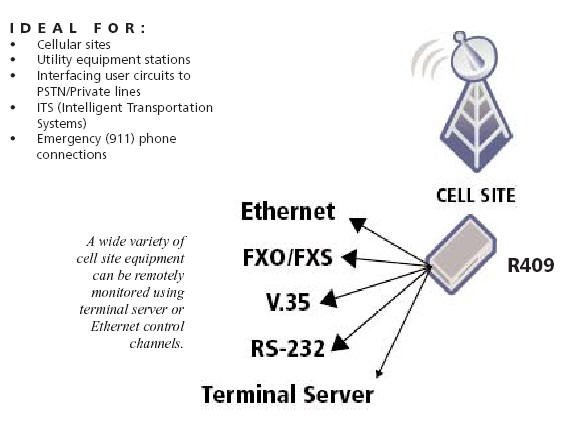 FEATURES

? Redundant power supplies
? 1:1 trunk protection
? 1:N E1/T1 protection allows selection of the degree of protection your traffic needs
? CSU/DSU built into T1/E1 cards saves cost and wiring difficulties
? In-band and out-of-band control
? R-View control GUI provides visual control of your entire network
? Built in alarms, loop back, and BERT makes troubleshooting easy
? Four stored maps allows increased/decreased bandwidth to meet immediate needs.
? Automatic provisioning of a replacement module
? E1 to T1 Converter bridges US and non-US technology
? Operates as a channel bank, DACS, E1/T1 converter and bandwidth manager
? Multiplexes voice, data, packet, to the T1/E1 level
? NEBS Compliant
ORDERING INFORMATION
R409CH Enclosure, 9 port
R409SNMP SNMP card Select 0 or 1
R409SA Single AC power supply Select 1
R409SD24 Single DC power supply (-24Vdc) Select 1
R409SD48 Single DC power supply (-48Vdc) Select 1
R409DD24 Dual DC power supply (-24Vdc) Select 1
R409DD48 Dual DC power supply (-48Vdc) Select 1
R40929PLAR* Automatic Ringdown Module

FEATURE CARDS COMMON TO THE R428

R429P1T1 T1 interface card
R429P1E1 E1 interface card
R429V35 V.35 interface card
R429X21 X.21 interface card
R429E530 EIA 530 interface
R429RS232 RS232 interface card
R429MDSL MDSL plug-in card
R429QFXO Quad FXO voice card
R429QFXS Quad FXS voice card
R429RT Router card
R429AFRT T1 ATM or Frame Relay
R429AFRE E1 ATM or Frame Relay
R429OCP OCUDP module
R429QEM2 2-wire Quad E&M voice card
R429QEM4 4-wire Quad E&M voice card
R429TS Terminal Server
*R409 only
Select up to 9 cards


Call 301-924-7400 ext. 17 for Information and Pricing

Coastcom Products